---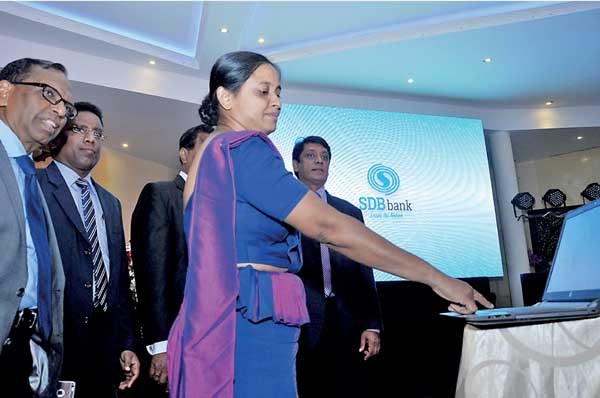 SDB Bank Chairperson Samadani Kiriwandeniya and the management unveiling the new logo of SDB Bank at a ceremony held at CeyNor Reception Hall in Colombo
Pic by Nisal Baduge
By Supun Dias
Sanasa Development Bank PLC unveiled its new logo as the bank is on the path of restructuring its image and operations in order to provide a wider range of services to the public where the bank would be better known as SDB Bank going forward.

The main reason for the introduction of the new logo was due to the listing of its shares on the Colombo Stock Exchange. Now it has joined hands with the International Finance Corporation (IFC), which is the private sector arm of the World Bank as well.

The SDB Bank can be identified as a bank which introduced a new dimension to the country's banking sector by providing loan facilities to the poor and rural communities. This has provided a lifeline for thousands of people to achieve economic prosperity throughout the last 19 years.
SDB Bank Chairperson Samadani Kiriwandeniya said that new changes were introduced with a view to carrying forward our mission in a more orderly manner.

"The new name will be easy to remember and this step will cement our place in the market because we have a competition now," she said.

She went on to say that when the Sanasa Movement began its operations in 1978, 40 percent of the population did not have access to the banking and financial sector.
"The change of the logo is also one such step. With this transformation, we will be widening the scope and efficiency of the services extended to the public so far. We will also be opening our doors to afford opportunities for those who have not yet transacted business with us. Our aim is to make a sustained contribution to the economic development of the country while consolidating the unique identity of the bank," she added.
Under the corporate restructuring programme, sectors such as cooperative banking, consumer banking and small and medium-scale entrepreneur solutions will receive greater prominence. The bank's network of branches will be actively involved in this new programme.
SDB Bank CEO Nimal Hapuarachchi said that the bank was able to win the confidence of the people of Sri Lanka through some very important services provided over a long time.

"It gives us great satisfaction to have been able to make sustained progress as a bank that made a real change in the very competitive financial services sector," he noted.
SDB Bank is hopeful that the new changes will be able to generate a greater trust in the bank among the public which will further carry forward the legacy of the Sanasa Movement.