---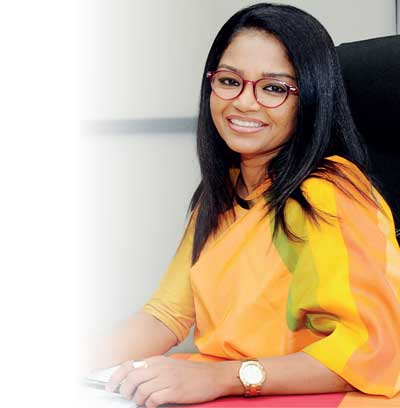 Nadi B. Dharmasiri, who took up the reigns as the Head of Marketing at Sampath Bank in July this year,has been recognized as one of the top 50 Women Leaders in Asia at the CMO Asia Awards 2016, held in Singapore recently.

CMO Asia, a Singapore based institution, is one of Asia's highly recognized corporate bodies which significantly contributes to the marketing, corporate and professional fraternities. The award for the top 50 Women Leaders in Asia recognisesstrategic perspective, future orientation, track record, compliance, integrity and ethics, as well the ability to foster sustainable and marketing competencies.

With over 23 years of experience across a multitude of industries including FMCG, Advertising, Telecommunications, Insurance and Financial Services, Dharmasiri bringsa 360 degree marketing competency to Sampath Bank.Prior to her appointment at the bank, she served as the Deputy General Manager - Marketing at Sri Lanka Telecom and Asst. General Manager - Marketing at Asian Alliance Insurance.

Speaking on her ambitions, Dharmasiri said she aims to bring fresh thinking and inventive approaches to establish Sampath Bank as a benchmark banking institution, retaining its core local values while expanding on its service and product innovations and enhancing customer-centricity through technology.

She was electedthe Chairperson of The Chartered Institute of Marketing Sri Lanka Region (CIMSLR)for the year 2012/13. A highlight of her tenure at CIMSLR was spearheading the introduction ofthe new business model under the international strategy and implementing the revised Articles of Association of CIMSLR. A board member of CIMSLR from 2005 to 2014, shewas also an elected member of the Membership and Professional Advisory Group to the Board of Trustees, CIM UK,occupying one of the two prestigious international seats.

She is currently an Advisory Board Member of the Asian Customer Engagement Forum (ACEF), as well as a Director of the International Advertising Association (IAA) of Sri Lanka, a position she has held since 2012, actively contributing towards its development and growth over the years.She was also a member of the Executive Committee of The Postgraduate Institute of Management Alumni in 2010/2011.

Dharmasiri was a member of the judging panel for the Institute of Personnel Management (IPM) People Leaders' Awards 2014 and the Young Entrepreneurs of Sri Lanka (YESL) Awards 2013. She has been serving as a Member of the Technical Committee and Panel of Judges, NCE Export Awards since 2014.

Nadi Dharmasiri is a Fellow and Chartered Marketer of CIM (UK) and holds a Postgraduate Diploma in Marketing from The CIM (UK), Master of Business Administration (Merit) fromThe PIM, University of Sri Jayewardenepura, where she also obtained an Advanced Certificate in Executive Management.