---
Nations Trust Bank (NTB) announced the appointment of Rachini Rajapaksha as a new member of the distinguished board of directors. Rajapaksha has over 20 years' experience across a multitude of industries including accounting and fund management. Her multidisciplinary competencies are expected to contribute towards the bank's wealth of practical insights and business objectives.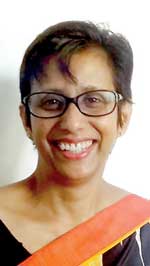 Rajapaksa was Chief Financial Officer of IBM World Trade Corporation. Immediately prior to joining IBM she was employed at Ceybank Asset Management Company Ltd. Having started her career at Pricewaterhouse Coopers, Sri Lanka, she counts over 24 years of work experience in the fields of fund management, accounting, budgeting and planning, treasury management, taxation, audit, management consultancy and general administration.
Furthermore, she is qualified as a Chartered Financial Analyst and is a Fellow Member of the Chartered Institute of Management Accountants, United Kingdom.