---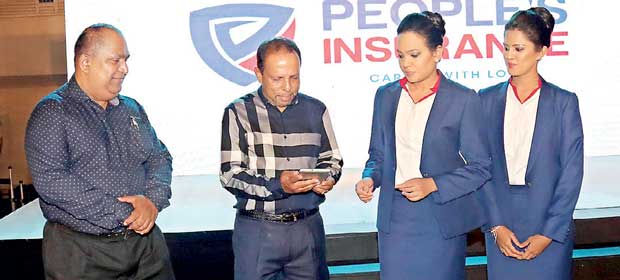 People's Insurance PLC, a leading insurer with seven years of a sound insurance portfolio recently announced the relaunch of its insurance brand.

Backed by its stalwart parent companies – the People's Bank and the People's Leasing Finance PLC – the People's Insurance has shown tremendous growth over the years providing innovative solutions to the nation, built on a solid foundation of utmost trust and care.

People's Insurance PLC (formerly known as People's Insurance Limited) was inaugurated in 2010 as a non-life insurer specialized in delivering a host of lifestyle and business insurance products led by motor insurance. Showing a promising growth in the initial year of operation, People's Insurance recorded a premium revenue of Rs.933 million. During the first quarter of 2011 the company recorded an annual premium income of one billion Rupees, becoming the fastest non-life insurer to achieve a feat of this scale. And within the same year, the company's total assets exceeded Rs.2.5 billion. In 2016, People's Insurance Limited became People's Insurance PLC, ensued by its investment portfolio showing a significant growth by exceeding five billion Rupees.

As a multi-award winning insurer, People's Insurance has clinched the 'Industry Gold Award' and 'Top National Honours' for its very first annual report in 2013 at the prestigious annual report competition 'LACP 2012 Vision Awards' held in Florida, USA. Furthermore, the company also bagged 'Insurance Companies Compliance Award' at the Chartered Accountants' Annual Report Awards 2013 organized by the Institute of Chartered Accountants of Sri Lanka.

Commenting on the occasion, People's Insurance PLC Chairman Jehan P. Amaratunga noted: "We commenced our business seven years back and today we have emerged one of the most profitable insurers in the country with consecutive underwriting profits during last five years. We are a part of the country's largest financial group, consisting of People's Bank and People's Leasing and Finance PLC and are backed by strong international re-insurers (rated above the minimum standards set by the IBSL). Armed with the 'strength of the state sector' and the 'efficiency of the private sector', you can be assured that our new promise is delivered to you."

People's Insurance PLC Chief Executive Officer Deepal Abeysekara expressed his views stressing that People's Insurance is in the forefront of non-life insurance industry. "We are well known among our insured public for our prudent underwriting and efficiency of service. Our successful journey reached a culmination in 2016 when our company was positioned among the biggest stakeholders in the insurance sector after recording an investment portfolio which surpassed five billion Rupees. Inimitable strength, stability and sustainability have placed us in the industry as the most trusted insurance company in Sri Lanka. Customers are our greatest assets, and we will continue to serve them with greatest care by being a part of their success story in life as well as in the corporate world."