---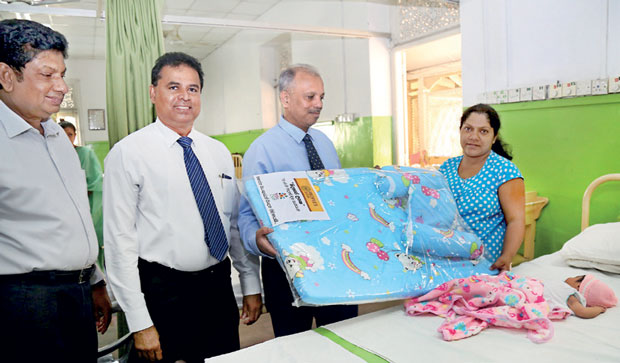 Commemorating Sri Lanka's 70th National Independence Day, the head office and all People's Bank branches organised Independence Day celebrations islandwide.

The Independence Day celebration at the People's Bank head office was held under the patronage of People's Bank Chief Executive Officer/General Manager N. Vasantha Kumar. The national anthem was sung while the national flag was hoisted during the occasion.

'Nidahase Upatha', a programme held by People's Bank every year on Independence Day was also carried out this year. Under this concept, People's Bank has made arrangements to gift an 'Isuru Udana' gift certificate worth Rs.500 to every baby born in the country between February 1st and 7th.
This programme was inaugurated by People's Bank in 2006 with a vision to instil pride and honour towards our motherland as well as to encourage parents to successfully plan the economic future of their children. With this Gift Certificate, parents can open an Isuru Udana Children's Savings Account for the child at the nearest People's Bank Branch using the amount in the Gift Certificate and maintain the account there after. The specialty of this programme is that the staff of People's Bank visits the hospitals and gifts the certificates to the newborns in person.

The main events of this programme was held in the morning on February 4th at the Castle Street Maternity Hospital in Borella and De Soysa Hospital for Women in Borella under the patronage of People's Bank Chief Executive Officer/General Manager N. Vasantha Kumar. Isuru Udana Gift Certificates and other gifts were offered to parents of newborn babies at the occasion. The ceremony was also attended by De Soysa Hospital for Women Director Dr. Sudath Dharmarathna, De Soysa Hospital for Women Deputy Director Dr. Migara Epa, Castle Street Maternity Hospital Deputy Director Dr. Nalin Premadasa, together with staff of the hospital and the corporate and executive management of People's Bank.