---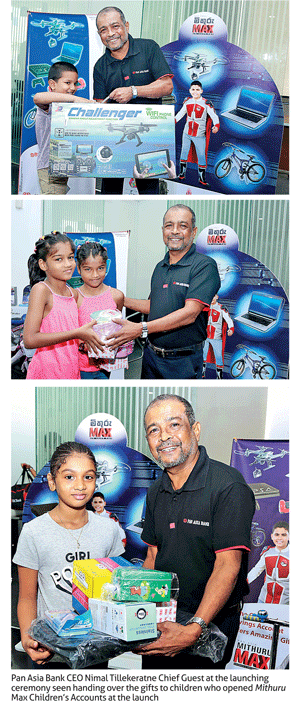 Pan Asia Bank known for its innovative financial products, recently unveiled a value added Children's Savings Account under the name 'Mithuru Max' with a redesigned gift scheme.

Mithuru Max account which sets itself apart from other children's savings accounts with an array of exciting gifts can be opened with a minimum deposit of Rs.500, and all children below 13 years of age are eligible to receive gifts based on their account balance in the following manner: Rs.1,000 - savings till, Rs.2,000 - pencil box, Rs.5,000 - lunch box and water bottle, Rs.10,000 - school bag, Rs.25,000 - kids' scooter or smart watch, Rs.50,000 - remote controlled helicopter or bluetooth speaker, Rs.100,000 - Wi-Fi drone or bicycle, Rs.250,000 - self-balancing scooter or tablet device and Rs.500,000 - Sony PlayStation 4 (PS4) or voucher for a laptop.

In addition to the exciting gifts, children will also benefit from high interest rates of up to six percent per annum. Furthermore, all existing Pan Asia Bank 'Mithuru' account holders also will be eligible to receive these exciting gifts going forward, as their account balances grow.

The gift for deposit slabs up to Rs.50,000/- can be directly collected from any Pan Asia Bank branch and there onwards, a voucher will be issued from the bank where the respective gift item can be collected from a partner outlet.

In addition to encouraging children to save for the future with attractive gifts, Pan Asia Bank announced that it will also offer attractive cash prizes based on the account holder's performance at the Grade Five Scholarship Examinations. Accordingly, students placed first, second and third in the island will be awarded cash prizes of Rs.100,000, Rs.75,000 and Rs.50,000 respectively. Further, the top five students in each district will each win Rs.10,000. All prizes will be credited to their Mithuru Max accounts, further boosting their account balances, and setting them up for the exciting gifts listed above. Pan Asia Bank Marketing and Personal Banking DGM Nalaka Wijayawardana said: "We are steadfastly committed to encourage Sri Lankans to save for a better future. And what better way to make it happen than start with our children? With an array of fantastic gifts, we have not only differentiated 'Mithuru Max' from other children's savings products, but we have also begun to instill in their young minds the importance of saving." He further added: "In order to motivate them to do their best at the Scholarship Exams, we are offering an attractive incentive scheme as well."