---
In a bid to meet the rapidly increasing demand for a hassle-free housing loan, Pan Asia Bank has come up with an option to enable the customers to obtain a home loan without the hassle of paper work.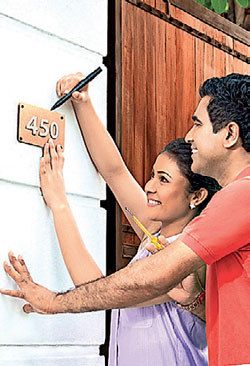 Further, they will have the option of opting to fix their interest rate for 10 years so that they are not impacted by the country's interest rate volatilities.
Under the hassle-free documentation handling option, the customers are offered a special service of obtaining the clearance documents from the local authorities via an agent. This service enables the customers save their valuable time spent in government offices trying to get clearance documents to apply for a housing loan.
Moreover, in order to offer a stable repayment option for its customers, the Pan Asia Bank 'Nivasa' housing loan now comes with an interest rate that is fixed for a period of 10 years from the date of granting the loan. With this new interest rate, the 'Nivasa' housing loan customer can maintain the same instalment value despite any upward trends in market interest rates. The Pan Asia Bank 'Nivasa' housing loan can be obtained for multiple purposes including building a house, buying a block of land to build a house, completing, renovating or extending a partially built house, repaying an existing housing loan from a recognized financial institution and purchasing a condominium.
Under this loan scheme, the customers can obtain loan facilities with flexible repayment options of up to 25 years. The loan amount is decided based on the BOQ value and the repayment ability of the customer where they can obtain loans up to 100 percent of the BOQ value when the customer owns the land and in other cases up to 75 percent of the BOQ value or the valuation of the property.
Pan Asia 'Nivasa-Step Up' scheme is another innovation that was added to the product recently. The 'Nivasa-Step Up' scheme is a unique scheme available for professionals and permanent employed customers that enables them to repay with lower instalments initially and increase the instalments gradually as their income increases. Since the instalments are comparatively low during the initial stages, it enhances a customer's ability to go for a higher loan quantum thereby making their dream home a reality.
The special documentation handling service is available for both these schemes.
Interested individuals can visit any of the 83 Pan Asia Bank branches across the country to apply for these loans. Further detail on this product can be obtained through Pan Asia Bank call centre.