---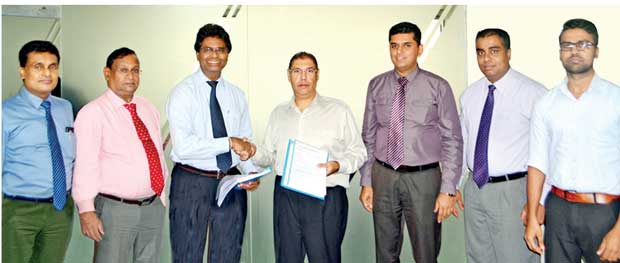 From left: OpenArc General Manager Prabhath Nedurana, Director Lalith Goonatilleke, Chairman/CEO Daya Hettiarachchi and Abans Finance PLC Chairman Rusi Pestonjee, Head of IT Gayan Wickramasinghe, Manager IT Manura Rajakaruna and Assistant Project Manager Dinusha Megasooriya
OpenArc, the leading software company and an IT campus headed by Daya Hettiarachchi, recently signed an agreement with Abans Finance, to replace the entire software solution implemented by OpenArc at Abans Finance many years ago, with its brand-new core banking software solution popularly known as 'SkyBank' together with its digital banking front-end, 'SkyDBF' and mobile payments platform 'SkyPay', which will lead the pathway to build a cashless and cardless society in Sri Lanka in the future.

OpenArc, being one of the leading technology group of companies specializing in commercial software products development, primarily in the banking and finance sector, IT education and industrial automation, recently launched its new core banking software solution known as SkyBank 2017 along with FinTech app solution for mobile payment, enabling every citizen to do his or her financial transactions through his or her mobile phones.

This means you, as a citizen, irrespective of the bank or finance company you keep your money, your payment transactions can be done using your mobile phone, which will be linked to your bank accounts. Imagine a society without hard cash, credit cards, debit cards, prepaid cards and even banks without ATM machines. This can happen one day in the mobile world with its ever-advancing technologies, features and reliability of mobile phones as a day-to-day tool that can execute any financial transaction.

OpenArc Systems Management (Pvt.) Ltd Founder Chairman and Chief Executive Officer Daya Hettiarachchi talked very passionately about the 'cashless society', where you and I will be heading in the near future.

With this solution, all the customers of Abans and citizens of this country should be able to experience truly digital banking services such as opening of bank accounts, making deposits and withdrawals, fund transfers, loan payments, etc. using mobile phones without having to go to a bank branch.
Further, it will allow them to make any kind of payments to merchants, utility companies, banks and finance companies, ecommerce purchases through websites, payment of traffic fines, etc. using the smartphones connected to their bank accounts.

Unlike the mobile wallet solutions presently available in the market place, this solution will give a more convenient service to customers and it will seamlessly integrate with all the banks and finance companies in the country using interbank settlement systems implemented by Lanka Clear, Hettiarachchi said.

OpenArc now offers this SkyBank, SkyDBF and SkyPay and other next generation software tools such as SkyBI Business Intelligence and data analytics tool to all existing clients of the company who are using the previous product namely 'InBank'. OpenArc SkyBank offers all the modules that are required by any finance company for the full operation such as loans, leases, hire purchase, savings, deposits, microfinance and integrated general ledger.

It is a bundled total solution with core banking back-end, digital banking front-end with mobile apps, mobile payment platform, business intelligence and data analytics with information dashboards that can be disseminated through Internet browser. It comes with unlimited user licences of database that too will be maintained by OpenArc without having the customer to work with a third party for database support.

OpenArc invites all existing clients of its previous software solution, namely InBank, to replace their systems with this most futuristic software solution. This solution is not only provided under easy-payment scheme but also through a revenue sharing partnership making the IT operation of our clients a profitable new business venture for them; Hettiarachchi explained the company's commitment and dedicated long-term service partnership with OpenArc's clientele.

With SkyBank product suite, OpenArc has started its regional marketing campaign and very soon will be present in the Asian countries such as Bangladesh, Myanmar and other countries in the Mekong range; he concluded expressing the company's vision and its future expansion programme.