---
In response to a growing demand for its personalised leasing solutions, Nations Leasing, an arm of the rapidly-growing Nations Trust Bank PLC (NTB), is reintroducing to customers, its popular 'Salaried/Professional Campaign 2016'.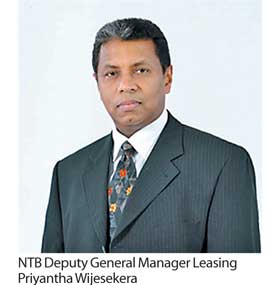 It is a limited offer specifically designed to cater to the exacting needs of young salaried professionals with an income of above Rs.50,000 per month, who are seeking to refine their lifestyle as they climb the corporate ladder.
The Salaried Professional Campaign offers customers a valuable deal to meet their every vehicle financing need with unprecedented flexibility. Customers have the option for a mere Rs.1,946 payment for every Rs.100,000 for registered and unregistered cars, vans and sports utility vehicles (SUVs). The scheme is unique in that it also gives customers the option of paying a lump sum payment of up-to 30 percent for the last rental, in addition to a 50 percent saving on insurance.
Commenting on the launch of this year's campaign, Deputy General Manager Leasing Priyantha Wijesekera noted, "We had a very strong response from our client base when we first launched the Salaried/Professional Campaign in 2015. With this relaunch too we are confident that we will receive an enthusiastic response this year. Especially as this scheme offers a lease with a high degree of flexibility in payments and special benefits for early settlement - coupled with Nations Leasing's unmatched service offering."
At a time when Sri Lanka's next generation of corporate leaders are steadily climbing the ranks, Wijesekera explained that Nation's Leasing and Nations Trust Bank as a whole is crafting banking and financing solutions that will support them in their progress.
In that context, the Salaried Professional Campaign will also be unique in that it allows professionals to avail themselves of a lease without requiring guarantors and documentation fees typically associated with such products.
Nations Trust Bank PLC is ranked among the top 25 business establishments in Sri Lanka by the Business Today magazine and its market positioning of being the benchmark of customer convenience is ably supported by a host of financial products and services offered to a wide range of customers. The bank operates 93 branches across the country with an ATM network that covers 134 locations and is the issuer and sole acquirer for American Express cards in Sri Lanka.