---
National Development Bank (NDB) marked yet another milestone by winning the 'runner-up' award for Effectiveness in the Retail Touchpoints and Merchandising category at the recently held ACEF Awards in Mumbai India.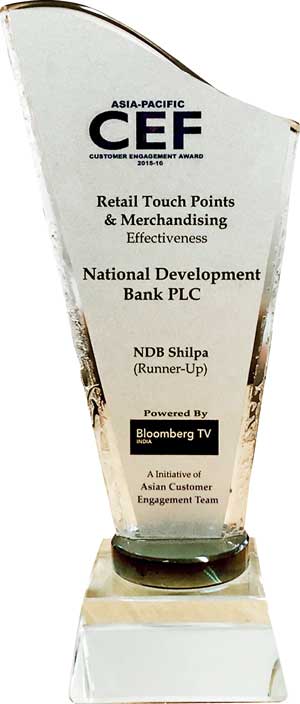 The award was accepted on behalf of the bank by its Assistant Vice President Marketing Sanjaya Senarath. Commenting on the receipt of this award Senarath said, "We are honoured and humbled to be recognized by the Customer Engagement Forum (CEF). NDB's brain child 'Shilpa' began as a result of understanding that every parent's dream is to give his/her child the best of education. The bank worked hard to take this product across and reached out to parents and children islandwide. We are continuing our efforts to take this forward."
NDB designed NDB Shilpa as a solution to every parent's dream of giving his/her children the best possible when it comes to education and their future. Shilpa is not merely a children's savings account but a comprehensive financial proposition that provides for a child's education throughout his/her childhood while instilling the good habit of
saving in them.
NDB Shilpa supports and grows alongside children through infancy up until adolescence to mentor and guide their education each step of the way. Thus, NDB Shilpa is customized into three segments namely, NDB Bilindu, NDB Kids and NDB Teen. NDB Shilpa children's savings account continues to focus on inculcating a regular savings habit amongst the young savers. It will reward the account holders who commit every month with a committed amount with a bonus interest. NDB Shilpa accounts can be opened with an initial deposit of just Rs.500 and a minimum monthly commitment value of Rs.500. It has made its way into many households in the country to satisfy every parent's aspiration to educate his/her child. NDB Shilpa motivates students towards academic excellence while offering attractive cash rewards to its account holders who excelled in the
government examinations.
NDB Shilpa Digital www.shilpa.ndbdigital.com is a special website that aims to effectively cater to the young parents and kids of the digital age. NDB Shilpa digital interface is a child-friendly, interactive online resource, which shares valuable information on themes such as saving, study tips, good parenting, child nutrition, early childhood development, etc. The digital resource is also designed with edutainment features that will attract and engage with the tech-savvy young ones.