---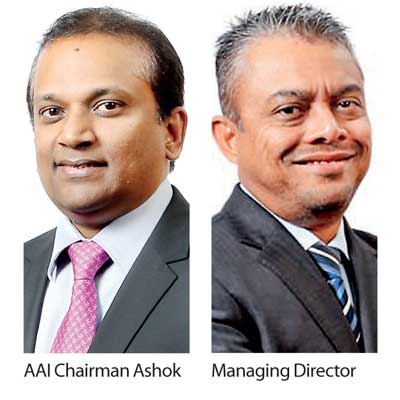 Asian Alliance Insurance PLC (AAI), a unit of Softlogic group, increased its net profit by 6 percent from a year ago to Rs. 212.4 million with an earnings per share of 57 cents for the quarter ended March 31, 2016 (1Q16) as both life and general insurance businesses performed well, interim
results showed.

The company's share ended 50 cents or 2.58 percent up at Rs.19.90 at yesterday's close.
The life insurance gross written premiums (GWPs) crossed the billion rupee mark during the period and ended the quarter with Rs.1.42 billion GWP, an increase of 64 percent from a year ago.
This is more than double the industry growth of 23 percent year-on-year (yoy) for the quarter, the company said in a statement.

The general insurance GWPs rose by 17 percent yoy to Rs. 526.3 million, well supported by motor insurance. Motor GWPs grew by as much as 80 percent yoy to Rs. 405.8 million.
In line with the insurance regulations, the company spun off its general insurance business in to a fully-owned subsidiary starting from January 2015.

The company's innovative 'Click2Claim' product appears to be gaining fast momentum in the motor segment due to its fast claim settlement process in
the market.

The total GWPs of the group grew by 48 percent yoy to Rs.1.95 billion.
Meanwhile, the group paid premiums worth Rs.415.5 million, up 11 percent from a year ago.
The underwriting and net acquisition cost rose by a sharp 87 percent yoy to Rs. 456.6 million.
It was only the other day the apex industry body, Insurance Association of Sri Lanka said the local industry had duly transferred risks to foreign re-insurance and thus the mammoth claims which are currently estimated at Rs.7 billion caused out of the recent flooding are unlikely to become a burden on the local

industry players. The other operating and administrative expenses of the group rose by 79 percent yoy to Rs.529.3 million.
In a sector report compiled by Capital Alliance Research in 2014, Asian Alliance was identified as s star performer in the industry along with HNB Assurance PLC to outperform the industry in terms of GWPs and profits during the five years to 2018.

By March 31, 2015 Softlogic Capital PLC held 59.18 percent stake in the company followed by Germany-based FMO and the Netherlands-based DEG holding 19 percent each.