---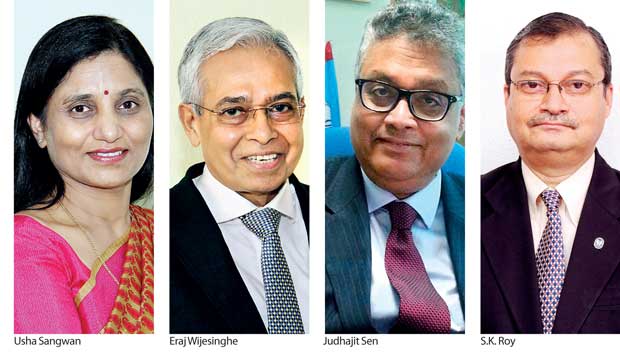 S.K. Roy, Chairman, LIC of India and LIC (Lanka) Ltd. and Usha Sangwan, Managing Director of LIC of India and Director, LIC (Lanka) Ltd are in Colombo.
The Life Insurance Corporation of India is celebrating its diamond jubilee year in India. In spite of tremendous competition for more than a decade in India, LIC has a market share of more than 76.99 percent in number of policies and 73.67 percent in premium income.
LIC is the largest insurer in the world in terms of number of customers and has more than 30 crores of policies in India. The Corporation has got global footprints in Gulf countries, Singapore, Kenya, U.K. Mauritius, Nepal, Bangladesh and Fiji besides Sri Lanka, either in the form of fully owned branches or joint venture or wholly owned subsidiaries.
In Sri Lanka, the LIC is in partnership with the Bartleet Group of Companies forming a joint venture Company, LIC (Lanka) Ltd. Judhajit Sen, CEO & MD of LIC (Lanka) Ltd. has said that "the Company is continuously growing in its premium income. Assets Under Management, agency force and various other key parameters, year after year. For the current fiscal year the progress of the Company is further enhanced and it is showing almost 18 percent growth in premium income and the investments have increased by almost 23 percent as at August 2016. The entire assets of the Company is invested in Sri Lanka - in Sri Lanka Government bonds, fixed deposits in banks and reputed companies in Sri Lanka. LIC (Lanka), Ltd. is also a major player in the equity market in Sri Lanka.
As a commitment to provide world class marketing experience to the customers of Sri Lanka, 35 top supervisors and Branch Managers are being sent to College of Insurance, Mumbai, a training centre of global repute for this purpose." The Company has more than 17 Products catering to the population, and 28 Branches all over the Island.
Roy and Sangwan will be attending the Board Meeting of LIC (Lanka) Ltd. along with Eraj Wijesinghe, Chairman of the Bartleet Group and a Director of LIC (Lanka) Ltd. to guide the Company for further consolidation and development in the life insurance market in Sri Lanka.