---
LIC (Lanka) Ltd, a joint venture life insurance company between Life Insurance Corporation of India, the global insurance giant, and the Bartleet Group of Companies of Sri Lanka, has further improved its growth trajectory as at 3Q17.

LIC India Chairman and LIC (Lanka) Ltd Chairman V.K. Sharma and LIC India Managing Director and LIC (Lanka) Ltd Board Director Hemant Bhargava are visiting Colombo for the 51st board meeting of the company. Bartleet Group Chairman Eraj Wijesinghe, who is also a Director in the Board of the company, along with LIC (Lanka) Ltd CEO and Managing Director Judhajit Sen will also attend the event.

While declaring the results of 3Q 2017, Sen informed that the company has grown on a year to year basis by more than 19 percent in Gross Written Premium (GWP) and this is over and above the growth shown for last four consecutive years. The company has shown an increase of more than 26 percent in its investment income due to its prudent investment strategy and it maintains a healthy solvency margin of 252 percent as on September 30th 2017, which is substantially higher than the regulatory requirement. Sen said: "The safety and security of the fund deployed by our policyholders is of utmost importance to the company and that is the reason why the company is maintaining a high solvency margin and the Life Fund has increased by almost 31.5 percent. It is really a matter of great pleasure that LIC (Lanka) Ltd. is on a growth trajectory for the last four years and continues to grow by more than 20 percent in GWP in the current year also, despite challenging circumstances."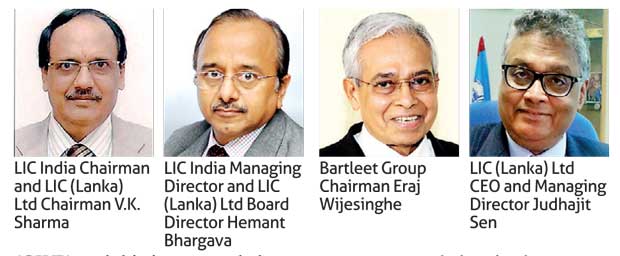 Sen also said that LIC (Lanka) Ltd embarked upon an aggressive media campaign with the tag line 'LIC Lanka your lifeline for life' which has helped the company to further consolidate its position.

Madawa Gunaratna, an experienced marketer in life insurance market in Sri Lanka now heads the Marketing and Distribution of the company. The company has embarked upon a grand plan of competence and capacity development by giving international training to its members through Insurance Institute of India, Mumbai, and National Insurance Academy, Pune to bring global best practices in Sri Lanka, besides continuous in-house training by experienced Consultants.

The board members bring a wealth of experience and expertise on the table and Sen said that the board will continue to give its strategic direction for the company to occupy the position of 'Insurer of Choice' in Sri Lanka.