---
LIC Lanka Ltd General Manager Marketing and Operations Harvinder Singh has been repatriated to his parent company, Life Insurance Corporation of India, in its corporate office in Mumbai.
He has been promoted and elevated to the cadre of Deputy Zonal Manager in LIC of India and posted as Secretary International Operations wherein he would be overseeing the international operations of the life insurance giant covering the Gulf countries, Singapore, Kenya, the UK, Mauritius, Nepal, Bangladesh and Fiji. This has been informed by the company's MD and CEO Judhajit Sen.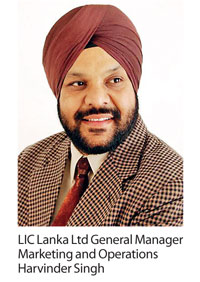 Singh joined LIC Lanka Ltd in January 2013. During his stay with the company, he took many initiatives for the new business growth of the company. Not only on the marketing front, he has also designed several policies of the company like investment and IT policy, risk management policy, new business-linked incentive structure for the sales and marketing force.
Singh introduced the SMS service for the policyholder and sales force of the company. Due to Singh's efforts, LIC Lanka became the first life company in the country whose field force can send the premium quotations to their prospective customers through their mobile phones.
During Singh's tenure, the company started marketing group insurance products, which have now been established as a good marketing vertical of the company. Singh was also able to initiate bancassurance in the company partnering with Commercial Bank of Ceylon.
Singh during his tenure introduced club membership for the agents of the company, designed a loyalty and retention scheme of the agents of the company and such other schemes by which the business of the company has grown threefold. As at June 15, 2017, the company's first premium income has grown at the rate of 122 percent.
Singh is quite a well-qualified person who has degrees like MA (Economics), MBA (Marketing), Postgraduate Diploma in Management and a Fellow of Insurance Institute of India in addition to his basic study with a Diploma in Radio and Telecommunication.
He is quite a jolly good by nature but very serious on his work and assignments. He is an avid singer and could master singing some Sinhala songs.
LIC Lanka Ltd is a Board of Investment (BOI) company having partnership of LIC of India, the life insurance giant by having more than 300 million policyholders, and Bartleet Group of Companies forming a joint venture, while having 30 branches across the island. It is currently headed by CEO and MD Judhajit Sen.