---

HNB's Green Path Customer Centre recently organised a walk for it's fitness-conscious, 'Priority Club' customers, encouraging them to earn higher interest rates on their accounts, based on the number of steps taken.

The walk was organised to officially launch, HNB Fit, the bank's latest digital product. Embracing it's business ethos of 'banking beyond transactions in a whole new world', HNB proudly presents the 'Fit account' as it's fondly referred to by customers.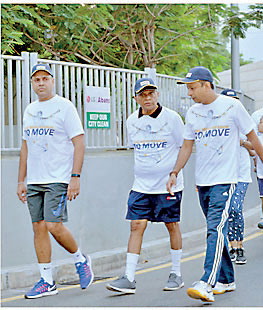 HNB Fit promotes healthy life style to customers from all 'walks of life', be they retail, SME, or corporate to make banking a part of their daily activities. Attractive rewards provide an incentive to walk more, an important form of wellness and fitness, which strongly aids fighting today's common non communicable diseases (NCDs) and obesity.

The walk which started at 6:30a.m. from Green Path to Independence Square and back saw around 80 enthusiastic 'Club Customers' do the six kilometre trot. HNB Managing Director and Chief Executive Officer Jonathan Alles flagged off the walk.

The bank recently launched the HNB Fit Savings Account, a first in the Asian region, which essentially works by using fitness trackers to measure the number of steps a customer takes each day. Based on how many steps they take, the product provides customers with a daily incentive on their basic interest rate of up to 10 percent per annum. Customers could use a Fitbit, Apple Watch or Jawbone device to track their steps.

Jonathan Alles said that the account was a motivational tool. "The bank's goal right now is to engage with its existing customer base and offer value to them while promoting wellness and health."
"Whilst initially targeting our existing clients, we will introduce HNB Fit to youth as well as SME sectors," revealed Alles.

"HNB Fit Account promotes fitness and health among our customers while giving them increased financial benefits," said HNB Green Path Senior Manager Michelle De Silva.

The walk, organised in collaboration with Parkway Hospitals, Singapore, had an interactive discussion with Consultant Doctor Kayathri Periasamy also from Parkway, who described the benefits of fitness and exercise in mitigating the onset of non-communicable diseases. He explained the early warning signs of ill health and urged the participants on the need for being fit. To complement the discussion was a talk on healthy eating by nutritionist followed by a health centric, post workout breakfast.

Customers who walked over 6,000 steps that day got the incentive interest rate of eight percent per annum, added onto any of their accounts, for that day, while customers who walked in excess of 10,000 steps received an interest rate of 10 percent.

The cutting edge product, HNB Fit is an account in which interest on savings is tied to exercise routine. It's open to all customers using an Apple watch, Fitbit or Jawbone device.