---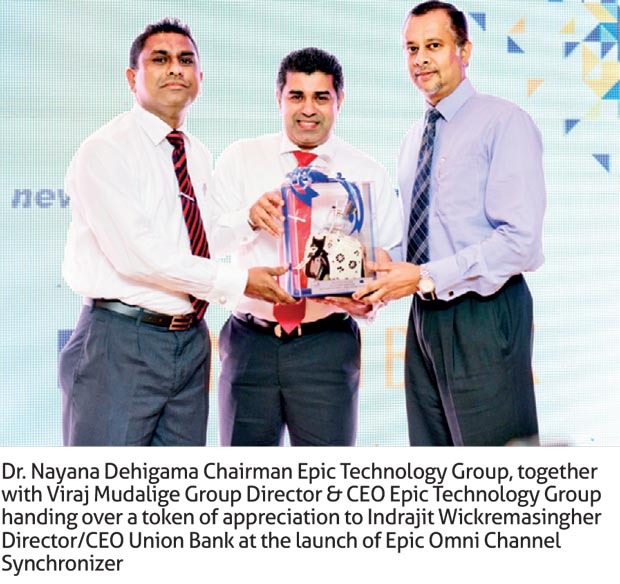 The award winning regional technology services provider, Epic Technology Group, once again proved its dominance in the field of FinTech solutions, having being assigned as the preferred technology partner by Union Bank.

This partnership signifies the launch of the 'Epic Omni Channel Synchronizer', a state-of-the-art FinTech solution designed and developed to facilitate Union Bank's digital banking platform for internet and mobile banking channels.

Welcoming clients and distinguished invitees at a special event held to celebrate the success of the launch, Director/CEO of Union Bank Indrajit Wickramasinghe said: "In collaboration with our technology partner EPIC Technology Group, Union Bank has been able to put forward a versatile and ingenious mobile banking proposition that not only makes banking easier but also complements the users' lifestyles with added features. We are confident that this solution from EPIC will help realize our goals to augment the bank's focus and presence in the digital banking field, thus fulfilling our pledge to continually improve our clients' banking experience".

Wickramasinghe further added, "Epic Omni Channel Synchronizer will allow customers to avail themselves of the Union Bank's products and services at the click of a button. Among some of its key features enabled through the mobile banking app are; foreign exchange rates, loan calculator, product rates inquiry, balance inquiry, internal fund transfers, utility bill payments, scheduled payments activator, statement requests and many more". Dr. Nayana Dehigama, the Executive Chairman and Managing Director of Epic Technology Group stated "Banks are required to move their services on to digital platforms not only because of the fierce competition from digitalized peer banks but also that is what the digital age customers demand. Digitalization is fast becoming a survival factor for all the banks today. As such, our Epic Omni Channel Synchronizer will enable Union Bank to seamlessly create a futuristic digital lifestyle to deliver unparalleled convenience to their clients".