---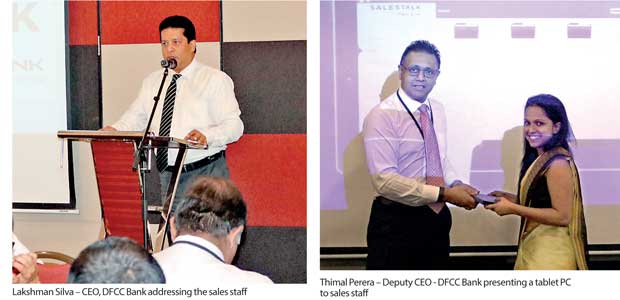 DFCC Bank continues its commitment to the digital transformation of the country's financial sector by using digital connectivity to engage with their customers.

The bank recently launched SalesTalk, a tailor-made software for the DFCC sales team, which will complement the bank's existing digital services and empower the sales team with additional technology-based resources.

SalesTalk was developed by a cross-functional team from the bank, whilst the technology was developed by Synapsys; a fully owned subsidiary of the DFCC Group and a technology firm which develops cutting-edge digital applications for the financial sector.

The team gathered insights from business lines and the sales team; especially considering the every-day challenges facing the sales team, to develop this customized sales toolkit.

"SalesTalk will take our sales team one step further in their interactions with customers, by giving them digital tools that are instantly accessible," said Lakshman Silva, CEO – DFCC Bank at the launch of the SalesTalk. "DFCC Bank is committed to being at the very forefront of the technology revolution in the finance sector, and SalesTalk is just one way that we continue to integrate technological tools to enhance our customer engagement as well as to enable and empower our own team."

The DFCC sales team participated at a ceremony held recently where the SalesTalk enabled Tablet PC's were handed over to them by CEO and the management of the bank.