---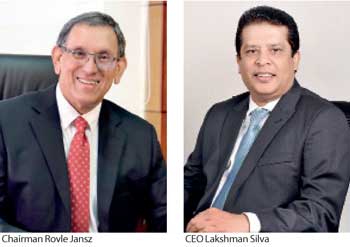 Modest performance in core-banking operations, better margin management and fee incomes helped DFCC Bank PLC to beat the odds during the quarter ended December 31, 2017 (4Q17), the interim financial accounts released to the Colombo bourse showed.

The development lender turned fully fledged commercial bank reported Rs.5.84 a share or Rs.1.03 billion in total earnings for the 4Q17, up 35 percent year-on-year (YoY)

The net interest income rose by 17 percent YoY to Rs.3.13 billion while the fee and commission income rose by a strong 34 percent YoY to Rs.482 million outweighing the hefty other operating loss of Rs.809 million charged from the profits.

At yesterday's close, DFCC Bank's share ended Rs.3.20 higher at Rs.122.00.

Meanwhile, for the year ended December 31, 2017, the bank reported earnings of Rs.16.45 a share or Rs.4.4 billion in after-tax profits, up 28 percent YoY.

The net interest income rose by 27 percent YoY to Rs.11.4 billion. The bank on a standalone basis expanded its loans and receivables book by Rs.29 billion during the year to Rs.221 billion, registering a growth of 15 percent.

While this is by and large in line with the industry's private credit growth for the year, the bank's loan growth came to virtually half that of the deposit growth for the period.

The deposits grew by Rs.53 billion or 38 percent for the year to end the portfolio with Rs.193 billion.

The bank managed to improve the low cost deposit base slightly as the bank has received a foreign currency deposits equivalent of Rs.12billion. As a result of this imbalance in the deposits and loans, the bank ended the year with a substantial amount of excess liquidity.

The bank recently announced its plans to raise Rs.7.0 billion in a 7-year convertible debenture to stay ahead of the BASEL III minimum capital levels.

The bank also managed to increase the net interest margin to 3.6 percent from 3.3 percent a year ago.

When the interest rates rise, the banks stretch their margins as they can charge higher for loans than the deposits as a large section of bank loans are booked at floating rates.

DFFC Bank's asset quality remains sound as the gross non-performing loan ratio improved to 2.77 percent from 2.97 percent in 2016.
By the end of December the bank on a standalone basis had a total asset base of Rs.333.1 billion, up 15 percent.

Sri Lanka's government holds little over 35 percent in DFCC Bank through Bank of Ceylon, Sri Lanka Insurance Corporation, Employees' Provident Fund and the Employees' Trust Fund.

Hatton National Bank PLC has a 12.22 percent stake in DFCC Bank being the second largest shareholder.