---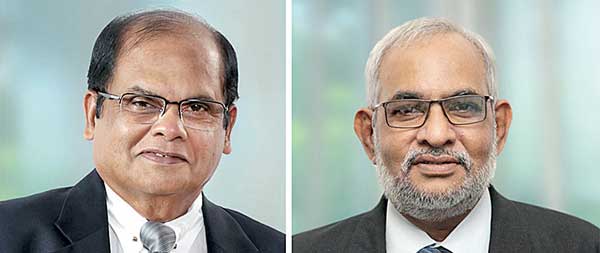 Commercial Bank of Ceylon PLC has recorded a profit before tax of Rs.17.144 billion for the 12 months ended December 31, 2015, a year in which it strengthened its positions in Sri Lanka and Bangladesh and accelerated its transition to becoming Sri Lanka's first private international bank. A carefully managed performance saw Sri Lanka's largest private bank attain solid growth across all business lines to improve pre-tax profit by a healthy 8.94 percent over the preceding year and achieve net profit of Rs.11.903 billion for 2015, a growth of 6.47 percent despite lower margins, reduced capital gains and higher tax commitments. Profit before Financial VAT and Nation Building Tax (NBT) was up 8.73 percent to Rs.20.033 billion.
The gross income increased by 7.03 percent to Rs.77.868 billion and the net interest income grew by a robust 11.47 percent to Rs.30.346 billion, the bank reported in a filing with the Colombo Stock Exchange (CSE). One of the many performance highlights of the year under review was the strong growth of the bank's loan book, which increased by Rs.102.684 billion or 25.33 percent to Rs.508.115 billion. This was the first time that the bank's loan book achieved a net growth of more than Rs.100 billion in a year. Total assets grew by a noteworthy Rs.84.195 billion or 10.58 percent over the 12 months to Rs.879.805 billion at December 31, 2015. Deposits from customers increased by Rs.94.740 billion at an average of Rs.7.9 billion a month to Rs.624.102 billion at end-2015, reflecting an year-on-year growth of 17.90 percent.
"We are pleased with these results because they reflect the ability of the bank to grow in changing conditions, while continuing to enlarge its footprint in Sri Lanka and overseas and consolidating its position as a catalyst in the socioeconomic progress of our country," Commercial Bank Chairman Dharma Dheerasinghe said. The bank's Managing Director/CEO Jegan Durairatnam added that 2015 was noteworthy because a strong foundation for future growth had been set with the licences secured to operate in Myanmar, the Maldives and Italy.
"These achievements are perhaps the most significant for the year as they expand our horizons, presenting new opportunities for growth and further strengthening our position in our home market," he said. Elaborating on key performance indicators in the year under review, Commercial Bank said the interest income had increased by 6.79 percent to Rs.66.031 billion, while the interest expenses had grown by 3.11 percent to Rs.35.685 billion, helped by an improved current account and savings account (CASA) ratio and due to timely re-pricing of assets and liabilities. The other operating income improved by 7.65 percent to Rs.10.936 billion, with net fees and commissions growing by 11.24 percent to Rs.5.374 billion, other income including recoveries of loans written off increasing by 20.67 percent to Rs.4.055 billion and the conversion of a net loss on trading of Rs.305 million in 2014 to a net gain of Rs.813 million in 2015. However, the net gains from financial investments in the year reviewed totalled only Rs.694 million as against a profit of Rs.2.273 billion in 2014, which came mostly from profit from bond trading.
Although the bank witnessed in increase in impairment charges by 22.11 percent to Rs.3.943 billion, the bank's non-performing loans reduced in the year under review. Notably the bank was successful in reducing its non-performing loans in absolute terms during the year under review. The total operating income before impairment charges grew by 10.44 percent to Rs.41.282 billion and the net operating income improved by 9.33 percent to Rs.37.338 billion, the bank reported. The total operating expenses for the 12 months was up 10.04 percent to Rs.17.306 billion. The bank's gross and net nonperforming loans (NPL) ratio improved to 2.74 percent and 1.41 percent respectively from 3.47 percent and 1.86 percent at the end of 2014, while return on assets (ROA) and return on equity (ROE) reduced to 1.42 percent and 16.90 percent respectively due to lower margins and high asset growth. The cost income ratio stood at 48.92 percent, which is below the industry average, while the bank's net interest margin reduced to 3.39 percent from 3.60 percent in 2014.
The bank improved its provision cover to 48.49 in 2015 from 46.34 percent at end-2014. Capital adequacy ratios declined marginally due to the growth of its loan book, but at 11.60 percent for Tier I and 14.26 percent for total (Tier I + Tier II) capital adequacy, remained well above the minimum statutory requirements of 5 percent and 10 percent, respectively. At group level, Commercial Bank, its subsidiaries and associates reported profit before tax of Rs.17.136 billion for the year ended December 31, 2015, an improvement of 8.05 percent. Net profit (attributable to equity holders) for the year grew by 5.48 percent to Rs.11.85 billion. Commercial Bank's overseas operations encompass Bangladesh, where the bank operates 18 branches and Myanmar, where it has a representative office in Yangon. In September 2015, the bank received the regulatory approval for the establishment of a fully-fledged Tier I bank in the Republic of Maldives. The bank also received licence to operate a fully-owned money transfer operation in Italy recently.