---
Consumer Unity and Trust Society (CUTS) International, headquartered in Rajasthan, India in partnership with Bay of Bengal Initiative for Multi Sectoral Technical and Economic Cooperation (BIMSTEC) conducted a conference on 'Facilitating Connectivity in the Bay of Bengal Region', with particular emphasis on physical, energy and investment connectivity in Dhaka, Bangladesh on second week of April.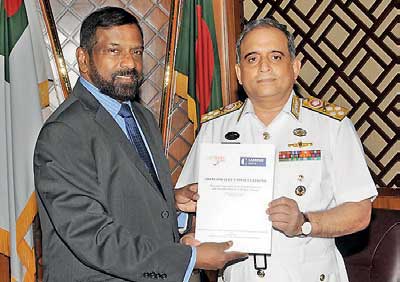 The conference brought together policy makers, experts, private sector, academia, think-tanks and media representatives from the region to discuss key issues and to recommend a way forward for enhancing overall connectivity in the Bay of Bengal Region.
Admiral (Dr.) Jayanath Colombage participated in this conference representing Pathfinder Foundation and presented a paper on 'Integrating Land Corridors with Other Modes of Connectivity in the Bay of Bengal'.
Admiral presented the progress made during the recently concluded conference organized by Pathfinder Foundation titled 'Tricomalee Consultations: Enhanced Regional Cooperation for Economic Prosperity, Connectivity and Maritime Security in the Bay of Bengal' and presented the outcome document to the Secretary General of BIMSTEC Ambassador Sumith Nakandala and other intellectuals. Admiral also highlighted the potential of Trincomalee harbour as a regional port for enhancing maritime connectivity in the Bay of Bengal region. He also stressed the need to regularized visa and customs procedures to encourage more freedom of travel within the region. Admiral Dr. Colombage also called on the Chief of Naval Staff Admiral Nizamuddin Ahmed and Chief of Air Staff Air Chief Marshall Abu Essar of Bangladesh.