---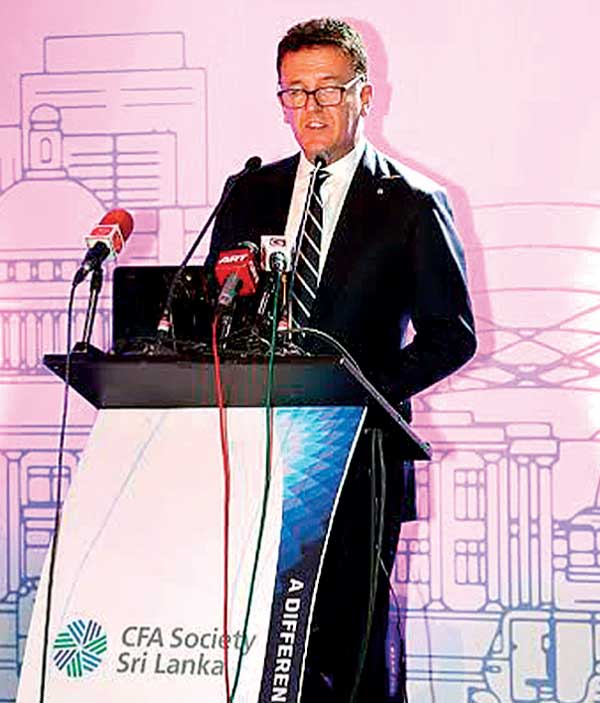 Sri Lanka's capital market is still at an early stage of development and therefore the establishment of a strong culture of ethical conduct is of paramount importance for faster growth in the market, according to the regional head from the world's top association of investment professionals.

"The maturity of Sri Lankan capital markets is at its early stages and establishing a strong culture of ethical conduct is essential," said CFA Institute Asia Pacific Managing Director Nick Pollard.
Unlike in developed and some of the East Asian markets, Sri Lanka's capital market does not reflect a cross section of the economy as only 294 companies are listed and the total market capitalization accounts for only 30 percent of gross domestic product (GDP) in 2015.

Stock market capitalization in Hong Kong is 1,078 percent of its GDP while it is 264 percent in Singapore. The Malaysian capital market is 148 percent of GDP, while in India it is 69 percent.
Stock market capitalization of about 50 percent of GDP is generally considered as a well developed and a matured market but is always not the case.

"The diversity, size and professionalism of institutional investors will be key in determining how fast and large the capital market in Sri Lanka can grow," Pollard said speaking at the CFA Society Sri Lanka capital market awards held recently. The perennial issue in Sri Lanka's capital market is the retail investors lack the confidence in the market as they repeatedly burnt their fingers in the past due to stock market manipulation in the form of alleged acts of insider trading and pump and dump schemes carried out by a mafia of high-net-worth investors but the country's capital market regulator lacks teeth in bringing the perpetrators into books.

Probes on earlier identified 17 market manipulators during the 2010-11 Bull Run saw Sri Lanka's Securities and Exchange Commission (SEC) losing two chairpersons in less than a year.
However, the SEC is now amending its decades-old Act allowing them to prosecute any party in a civil court.
Further, unlike in the government securities market, Sri Lanka's capital market consisting
of only equity and corporate debt lacks
liquidity, which also acts as a deterrent in market development.
The move to increase public free float in a bid to increase liquidity has made a mockery of its own as listed companies are seen dubiously keeping their stakes among the promoters or under Special Purpose Vehicles and those who did not see the value of remaining listed got themselves de-listed backfiring the free-float rule.

The proposal to list partial stakes in large state-owned-enterprises (SoEs) has been there for so many years but to no effect.
Currently Sri Lanka's capital market lacks the diversity in investment instruments in the likes of derivates and also the investors as the market is still largely controlled by an elite few.
The Colombo Stock Exchange in a welcome move recently established a long awaited Central Counterparty for all secondary market transactions.

With the interest rates remaining high Sri Lanka's stock exchange currently goes through a bad period but lately the market saw some returning of foreign inflows but year-to-date net outflows still remains above Rs.4.0 billion.
When bank borrowings remain expensive, capital market opens up an avenue for the corporates to raise relatively cheaper capital.