---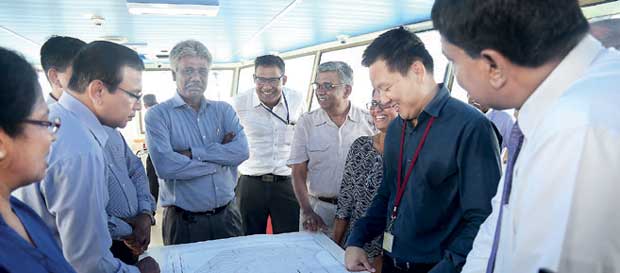 A 15-member delegation of senior government officials including the Chairman of the Central Environment Authority (CEA), went on an inspection tour of Colombo Port City's sand mining operation recently.
CEA Chairman Prof. Lal Mervin Dharmasiri, Senior Additional Secretary to the President Rohana Keerthi Dissanayake, Director, Presidential Taskforce on Environmental Conservation Dr. UpaliIndrasiri, Working Director of Sri Lanka Land Reclamation and Development Corporation (SLLRDC),Roshan Gunawardane were part of the team that went on board the second sand dredger Jung Yan 1.
They were accompanied by a number of other officials from the CEA and the CCD as well as the Deparment of Fisheries & Aquatic Resources. The Chairman of the CEA has said that the sand mining, which is being carried out 10 kilometers from the shore was being done in accordance with set environmental guidelines.
CEA representatives have further said that the delegation carefully observed the dredger, methods used for mining, transportation of sand to construction site and the disposal of sand from the site etc. They have reiterated that every step would be taken to carefully monitor environmental impacts, considering the sheer scale of the project.