---
By Harshana Sellahewa
Capital Alliance (CAL) has launched Fipbox, a centralised web application that facilitates investors with up-to-date information about interest rates and credit ratings of banks and financial institutions, allowing clients to confirm investments through a single platform to help them find the best fixed deposit rate.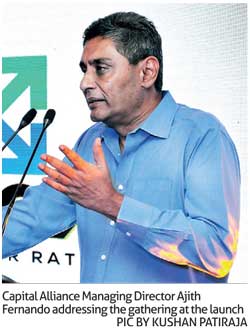 Fipbox (Pvt.) Ltd is a Fintech company geared to provide convenience, accessibility and efficiency to Sri Lankans in the financial services sector. It allows users to track their investments from end-to-end, including maturities, re-investments, and more. A one-time submission of the information into the Fipbox application (www.fipbox.com) simplifies the hassle of filling application forms. Speaking to the gathering at the grand launch event held at Jaic Hilton, Colombo, CAL Managing Director Ajith Fernando stated: "Fipbox simplifies the challenging process of searching online for the best fixed deposit rates, by providing all the required information such as interest rates, credit rankings and more of all banks and financial institutions in Sri Lanka on its platform."

"Fipbox users can make their deposit in just three clicks, as it effectively does away with the need to fill forms and wait for a response," he continued. "Fipbox educates the community about investment best practices by sharing content on investment and money saving matters. This innovation is yet another testimony of CAL's commitment to deliver excellence in execution, world-class research and product innovation."

As a reliable and trusted partner, this CAL-initiated platform is a convenient approach that reduces time spent on researching fixed deposit rates, which is especially advantageous for senior citizens offering trustworthy and dependable information for investors who have just entered the market. For instance, a salaried employee who would want to grow modest wealth by analysing expected returns would find Fipbox to be ideal, as would retirees who want to find a safe nest to vest their life's earnings and earn a monthly income; or even individuals who want to make their money earn for them.

Fipbox is a wholly owned subsidiary of the Capital Alliance Group, a highly reputed financial services group also holding a Primary Dealer in government.

CAL offers a range of investment products covering equity, fixed income, and commodities, making it a fully integrated investment bank. CAL specialises in the origination, trading and sales securities, both debt and equity, and aims to provide universal broking services to the market.