---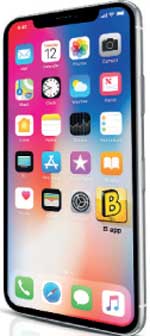 Bank of Ceylon (BOC) presents its mobile banking solution to resolve day-to-day banking needs with a touch of a button and help out to give more space in life for loved ones.

'B-App' allows the bank's customers to enjoy banking at their fingertips with an advanced and highly secured IT platform. It can be easily downloaded to any iOS or Android enabled mobile device through Google Play or Apple App Store. Thereafter the customer simply has to submit the B-App application form to the nearest BOC branch and activate the account immediately. By getting aboard with this application the customer can obtain the most secured mobile baking service that allows the customer to manage daily transactions easily and instantly. These routine transactions include transfer funds to any account (Own accounts, third party BOC accounts or other bank accounts), account inquiries, instant, scheduled and recurring utility bill payments.

Managing and monitoring assets and liabilities are also made easy with the mobile screen friendly interface. Customers can set up standing orders, cheque book requests and statement downloads without having to visit the branch. In case of an emergency customers themselves can issue 'Stop payment' to cheques issued on current accounts immediately. B-App has a secured one-time password and self-unlock user ID that allows the user to 'self-unlock', to save time and enhance productivity. The customers can also add third party accounts and new billers as required without having to refer to the administrator. These features super charge one's life giving control over banking and empowering the application end-user; the customer.

BOC believes in delivering genuine value-added services to its customers and it understands that it has a prime duty towards the country's economic sustainability. Therefore, the bank realises that by providing these technologically aided banking services that adds convenience to the evolving lifestyle of Sri Lankans, it not only enables millions of BOC account holders to carry out banking transactions efficiently but promotes this technology to every nook and corner of the country. "With this technology we can penetrate further into the community and work towards a financially inclusive society. We empower our customers to manage their finances efficiently and to reach their goals smoothly. Having a portal that enables the customer to interact with the bank by following simple instructions is a key feature in this application. So anyone with minimal knowledge of operating a smartphone can manage to get the maximum use from it," stated BOC Product and Banking Development Deputy General Manager M.J.P. Salgado.