---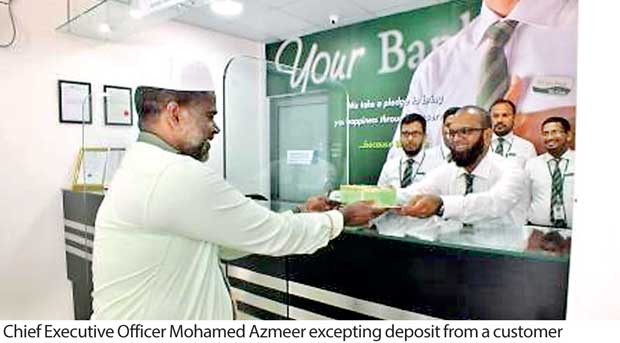 Amãna Bank recently relocated its Kattankudy b ranch to a more spacious location to accommodate an ever increasing customer base as well as to provide greater reach, convenience and an enhanced banking experience to its customers.

The new premises located in Main Street, Kattankudy was declared open by the bank's Chief Executive Officer Mohamed Azmeeralong with Senior VP – Corporate and SME Banking M. M. S. Quvylidh and VP Operations Imtiaz Iqbal.

The newly established location also houses Amãna Bank's award winning Gold Certificate Financing Unit, which provides an alternative financing solution for pawning as well as an Amãna Bank Vantage Centre, which is an exclusive banking unit for the Bank's valued customers. Commenting on the relocation, the bank's Chief Executive Officer Mohamed Azmeer said, "Kattankudy is a key business hub in the eastern province and through this relocation we are happy to present a better banking experience to our valued customers of the locality. I am thankful to the customers of Kattankudy for their continued trust and reliance on our banking services and look forward to enhance our services at our new premises."

Amãna Bank is the country's first and only licensed commercial bank to operate in complete harmony with the globally growing non-interest based banking model. With the mission of enabling growth and enriching lives, the bank reaches out to its customers through a growing network of 28 branches and over 4000 ATM access points and has introduced an array of customer conveniences such as internet and mobile banking, debit card with SMS alerts, online account opening, 365-day banking, Saturday banking, extended banking hours, 24x7 cash deposit machines and banking units exclusively for women.