---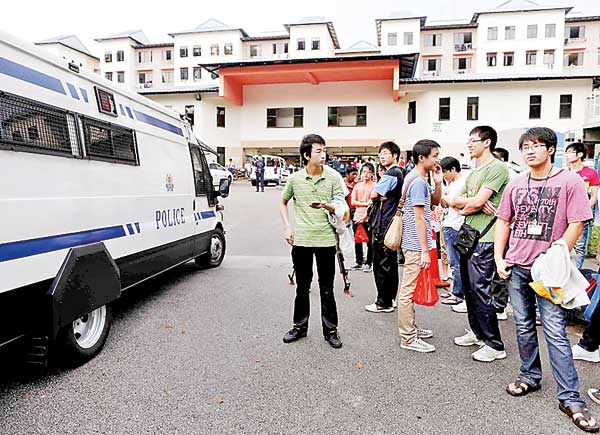 A rare protest over wages in Singapore by a group of bus drivers recruited from China has caused a public stir, highlighting the city-state's heavy reliance on migrant workers as tensions rise over the influx of foreign labour, The Wall Street Journal said.

According to the news report, industrial action is almost unheard of in Singapore, which has kept a tight leash on organized labour to attract foreign investors. But on Monday, nearly 200 public bus drivers failed to show up for work, protesting what they called discriminatory pay practices by their employer, state-controlled transport operator SMRT Corp. Singapore law prohibits workers from going on unannounced strikes.

Quoting analysts, WSJ said the furor could complicate the government's efforts to tackle rising public discontent over immigration. Policy makers are trying to strike a balance in keeping Singapore a top destination for foreign workers and new immigrants—seen as a way to offset low birthrates—while containing antiforeigner sentiment.

"Singapore's high dependence on foreign workers—many of them semiskilled and unskilled—is a big social issue," Chris Leggett, a professor specializing in industrial relations at Australia's James Cook University was quoted as saying.

"There's certainly a potential for [more problems] and the government will need to address it in some way or another."

According to WSJ some Singaporeans say foreign-born workers take jobs, depress lower-end salaries, push up property prices and put strains on infrastructure, especially Singapore's crowded subways. But foreign workers performing low-skill tasks are a crucial part of the economy, particularly with many new developments and transport links being built every year.

Foreigners comprise about a third of Singapore's labour force, government data show. As of June, Singapore had about 1.23 million foreign workers.
In this week's case, the 171 drivers declined to leave their dormitories, saying their employer discriminated against them by offering smaller pay raises than those given to Singaporean or Malaysian drivers. SMRT says it employs about 2,000 bus drivers, of which about 22% are from China.

The company, majority-owned by Singapore state investment company Temasek Holdings Pte. Ltd., said late Monday it had persuaded some of the workers to return to their jobs but on Tuesday nearly 90 drivers again refused to work, prompting the government to launch a probe of what it has called an "illegal strike."
"We have zero tolerance for such unlawful action because disrupted essential services not only affected the workers in the industry, but also affect the daily life of all in the community," Tan Chuan-Jin, acting manpower minister, said Tuesday.

Under Singapore law, workers performing "essential services"—including health care, firefighting and public transport—must give 14 days' notice before going on strike.

Workers in public utilities including water and electricity services have no right to strike.

The manpower ministry "understands the bus drivers' grievances…[but] there are right ways and wrong ways to handle these concerns," Tan said.
Singapore has taken a tough stance in the past on industrial action, in a bid to protect its image as a good place to do business.

After a series of major strikes in the 1950s and 1960s, the government started curtailing union powers "because of the need to industrialize [the fledging economy] and attract multinationals to invest. The only way to do so was to provide a reliable labor force and predictable business environment," said Leggett.

Many foreigners—especially low and unskilled workers—don't join unions because Singapore's labour rules prevent unions from providing them full representative services, said Gerald Tan, a former industrial-relations officer at Singapore's National Trades Union Congress. "There's a big hole in the system as there's a large group of workers who aren't being effectively represented" by unions, he said.

SMRT said Tuesday it was continuing talks with the workers. "We are still working toward an amicable resolution to the matter," it said, adding it had first heard of the workers' complaints on Monday.

But some drivers said they had complained to supervisors previously. "We've even gone to the Chinese Embassy but to no avail," a driver who protested by taking medical leave was quoted as saying. "I didn't do anything illegal. I'm merely exercising my right to rest," he said.


---
Add comment

Comments will be edited (grammar, spelling and slang) and authorized at the discretion of Daily Mirror online. The website also has the right not to publish selected comments.

---