---
By Channa Fernandopulle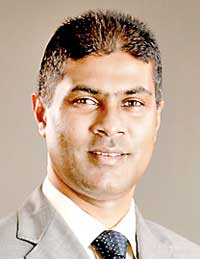 Sampath Bank plans to aggressively expand market share with its e-remittance facility, having already gathered significant momentum through the course of last year, according to the bank's Marketing and Business Development Deputy General Manager Tharaka Ranwala.

"Our e-remittances facility has performed exceptionally well over last year and we are looking at developing the system going forward," Ranwala said.
He stated that the bank has made significant headway with its e-remittances facility with 11 partner exchange companies signing on with the bank's web service as at March 22, 2013.

Included among the new partners were U Remit and Al Ansari along with ARY Speedremit in the Middle East and NEC in Italy.
Ranwala added that Sampath Bank was already in discussions with several other potential worldwide partners.

He went on to state that Sampath Bank was also looking at developing its services in order to bring more informal remittance transfers into the banking sector.
"We are looking to find ways of streaming our services and making them more attractive and easier to use in order to capture more of the informal sector of remittances.

When money is remitted through the informal means, it does not circulate within the country's economy therefore no benefit is derived. Therefore, we are looking at innovations to capture more of this market," Ranwala stated.In that regard, he hinted at the possible integration of mobile money in addition to direct account transfers and over the counter payments in the bank's e-remittance facility.

The e-remittance facility is an Internet-based instant money transfer facility that enables Sampath Bank customers and non-customers to receive money, literally within seconds, from any of the bank's agents abroad.