---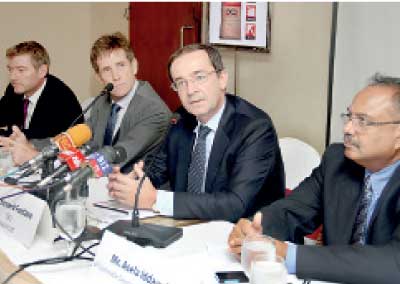 The proposed merger between cement majors Holcim and Lafarge is unlikely to have any negative implication on Holcim's Sri Lankan operations, as the country remains a "strategic market", a top Holcim official said.

"Sri Lanka is a growing market and we have ambitious plans. Holcim has been and will remain committed to Sri Lanka. Besides our operations in Sri Lanka are of the right size," Holcim Ltd CEO Bernard Fontana who was on a brief three-day visit to Sri Lanka said.

The proposed merger between Swiss-based Holcim and French company Lafarge was announced in April to create a construction material giant who will have access to a total of 90 markets.

The two companies at the same time said they would shed some of their assets worldwide in a bid to address any anti-trust concerns that could emerge as a result of the proposed deal.

"The divestment we (Holcim and Lafarge) will do where we overlap and have high presence. Two third of the divestments will come from Europe. We are also reviewing our operations in Canada , USA and Brazil," Fontana remarked.

"The process will at least take 12 months and the merger should be approved by 22 regulatory bodies in Europe. So until that happens we remain competitors," he added.

Holcim Lanka currently has a market share of about 30 percent. According to Holcim Lanka CEO Phillippe Richart, the combined market share of Holcim Lanka and Lafarge post-merger would be less than 50 percent.

Holcim, then Holderbank AG, entered the Sri Lankan market purchasing state-owned Puttalam Cement Company Ltd in 1996, and is believed to be holding 96 percent of the equity of the company.

According to Group CEO Fontana, Holcim has made an investment of US $ 150 million on Sri Lankan operations since its entry and it has received approximately US $ 40 million in dividends.

"Sri Lanka is a long term story. Therefore at least 90 percent of our benefits are reinvested in Sri Lanka. There have been peaks and slopes in the profitability from time-to-time. But our prognosis and our feeling is that return on invested capital in Sri Lanka is positive in the longer term," Holcim Ltd Corporate Functional Manager Aidan Lynam who accompanied Fontana in his visit to Sri Lanka remarked.