---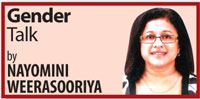 In more instances than not, starting a successful business from nothing has been compared to the process of giving birth and nurturing children. If there is any similarity between the two, then there is no surprise then that some of the world's biggest and best known businesses have been started by a woman who has gone into the company's history books as the matriarch of the business. Eventually, as new generations take over, they still look back with respect at what the matriarch achieved over the years. Often, the story is worth a couple of MBAs.

Grand matriarchs

Estee Lauder who launched a cosmetic empire and Carolina Herrera the Senior are two such women who have gone on to become grand matriarchs of the corporate world. In Sri Lanka, we have watched with admiration the story of Aban Pestonjee, who went on from one small shop to create a group of businesses. Closer home, 75-year-old billionaire Indu Jain is recognized widely as one of India's business matriarchs – widow of Ashok Kumar Jain and mother of Samir and Vineet, her fortune is considered worth US$ 2.8 billion.

The Queen of England, Elizabeth II may not run a corporate empire but she is a powerful matriarch who runs the Royal Family like an iron fisted CEO. She has the family's interests at heart and will never consider options that might hurt its image and standing in the long term, however modern or relevant it might seem. She has values she will always stick to and she plays by the rules of protocol always. She is a classic example of how a matriarch can hold an institution together, making it appealing even in the 21st century.

The grand dames of business know a thing or two about starting a business and carefully nurturing it to success. They may not have MBAs under their belt but they have many other things going for them. They have also raised families while leading the business and can understand and appreciate how the process of carefully nurturing and leading a business goes. They have access to the kind of intuition and 'gut feeling' most executives would give an arm and a leg to have. They also tend to be pragmatic, able to grasp issues with little fuss and get down to the details. Somewhere down the line, being a woman, a mother and a wife help equate the score card.

Bed-rock of expertise

The following generations usually want to keep the matriarch around because she knows so much; she is likely to occupy a considerable position within the company. She still has a lot to teach and a lot more to give in terms of advice, guidance and nurturing. After all, she built the business and she should know. While businesses like all else must adapt with the times, the matriarchs usually know by instinct what works best.

The matriarch may have her favourites in the family and in management but she knows who will run it best in the long term. She may not know her SWOT Analysis from her market research, but for all the inputs from her executives, she will still be able to come to terms with what needs to be done in the long or the short-term.

Often, as companies grow from one roomed startups to conglomerates, people running them forget the initial set of values and visions that once drove the business. They get preoccupied with running a big business – which sometimes could be mundane compared to the very objectives that drove the grand dame and her team. She may not see it their way but she has built something out of nothing and experience normally forms the bed-rock of her expertise.

Learning from the old

For most such women, the business has been their very life. Being an entrepreneur myself, I can very well relate to it. You live your business, your kids and your family lives it too. It was once everything – you sometimes get your best ideas while cooking or helping the kids with their homework. It could be business that grew out of your kitchen, the spare room or the garage but no one knows it better than you, the founding matriarch, do.

Every business goes through change for the better and the businesses started by women are no exception. Yet, when the matriarch is still at the head and she participates in the decision-making process, the newer generations would learn so much by involving her in management.

There is so much the younger generations can learn from their entrepreneur matriarchs, if only they are willing to. The lessons can help them see, think and hear differently. After all, the matriarchs represent a generation to whom nothing came easy. They have had to strive every step of the way. Sometimes, it is good for the young to see the world – and their businesses through the eyes of the old.

(Nayomini, a senior journalist, writer and a PR professional can be contacted at nayominiweerasooriya@gmail.com)

---
Add comment

Comments will be edited (grammar, spelling and slang) and authorized at the discretion of Daily Mirror online. The website also has the right not to publish selected comments.

---
---
---