---

The much hyped 'Port City' project, which will reclaim at least 252 hectares of sea in front of Galle Face, will be extended up to Mount Lavinia to be opened up for commercial activities, according to Sri Lanka's port chief Dr. Priyath Bandu Wickrama.

According to Dr. Wickrama, this will be carried out under a re-nourishment project linked to the 'Port City' and this land will be allocated for commercial activities.
However, the extension will be a separate project which will not directly come under the Sri Lanka Ports Authority (SLPA) and the timelines are also yet to be determined.
At the same time, the Katunayake expressway will also be linked to the 'Port City' and will stretch up to Galle Face Hotel and will further be connected to the Marine Drive through a tunnel.

The objective is to avoid the high traffic congestion most likely to be developed around the Galadari roundabout once the 'Port City' is up by end-2017. The land filling is expected to be completed by end-2016.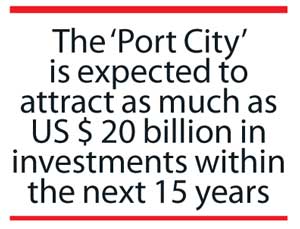 Dr. Wickrama disclosed these plans at a recent forum held at the Ceylon Chamber of Commerce on becoming next emerging mega hub of Asia with vision 2020.
The Port City is Sri Lanka's largest private investment project and the project investment is to reach US $ 1.4 billion from its original US $ 900 million and further up to US $ 2.0 billion once the entire infrastructure is completed.

The project is fully funded by the Chinese developer, China Harbour Engineering Company Ltd (CHEC), a partnership of the China Communication Construction Co. Ltd (CCCC), based on a land sharing arrangement under the Land Alienation Policy of the Government of Sri Lanka.
Furthermore, the 'Port City' is expected to attract as much as US $ 20 billion in investments within the next 15 years.

The reclaimed land will be given to investors at Rs.7.89 million a perch, he said.
Meanwhile, responding to opposition allegation that the Colombo Fort land prices will come down as a result of selling lands at the above prices, Dr. Wickrama said that he would assure the land prices would not go below Rs.8.5 million a perch.