---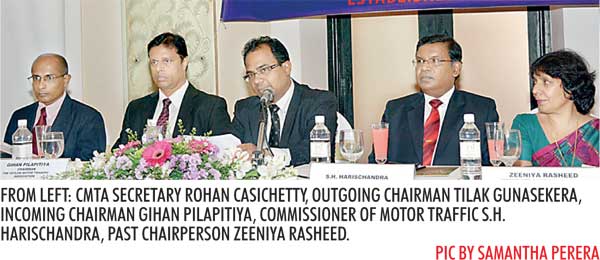 By Chandeepa Wettasinghe
Policy makers are using baseless arguments to target auto traders with successive policies, according to Ceylon Motor Traders Association Incoming Chairman Gihan Pilapitiya.

"They take action on the automobile trade whenever they are pressured by the exchange rates, interest rates or foreign reserves," he referred to other excuses policy makers give in order to change regulations.

Pilapitiya made these observations at the AGM of the Association, affiliated with the Ceylon Chamber of Commerce.

"These stories are now stale but still active underground. Authorities have to stop these baseless allegations or show evidence to the public professionally," he further chastised, but went on to say that if proven, the body is more than willing to co-operate with the government. Investors are also questioning the policies being changed at a whim, which has caused some worry to CMTA members. "Policy relating to motor trade has changed over 15 times in the past 24 months, and our principals are asking us how policy can change so fast," Pilapitiya said. Outgoing Chairman Thilak Gunasekara explained these challenges, quoting statistics published by the Central Bank; new vehicle registrations have gone down by 18 percent in 2013 compared to 2012, down from 397,295 registrations to 326,651.



Policy relating to motor trade has changed over 15 times in the past 24 months


"The Association has been importing vehicles for over 100 years, but there is less freedom and mobility today, which would have been hard to imagine a century ago," he noted.

He expressed that policy makers see the industry as a lucrative business, highlighting the importance of the organization to the economy with payment of taxes, job creation, investments and CSR activities.

"The Association for the past 12 months has been campaigning very vigorously against actions taken by the Department of Customs. They are not willing to accept the invoice price and have been asking for their own price," he mentioned of the independent valuations done by the department, and the hardship faced by traders in paying extra costs.

He reaffirmed that authorities make ad-hoc changes to policy and tax frameworks based on their own theories.

Pilapitiya said the Association must not just hurl accusations at the authorities but face the challenges by having the house in order. The members would have to rethink their promotional and publicity strategies, pool their knowledge and resources together, and leverage their past successes in negotiations for future policy making.

The 94th CMTA AGM was held at Taj Samudra Hotel, and was attended by the members who are leading automobile traders across the island.

While Pilapitiya, the past vice-chairman accepted the new Chairmanship, he said that strong characters must be in charge to face evil policy makers.

Sheran Fernando and Reeza Rauf were elected as new vice-chairmen. Meanwhile the executive committee remains unchanged, composed of Associate Motorways (Pvt) Ltd, Hamad (Pvt) Ltd, David Peiris Motor Company Ltd, Diesel & Motor Engineering Company Ltd, KIA Motors, Mclaren's Lubricants Ltd, Prestige Automobile (Pvt) Ltd, SML Frontier Automotive (Pvt) Ltd, Stafford Motors Motor Company Ltd, Toyota Lanka (Pvt)Ltd and Sathosa Motors PLC.