---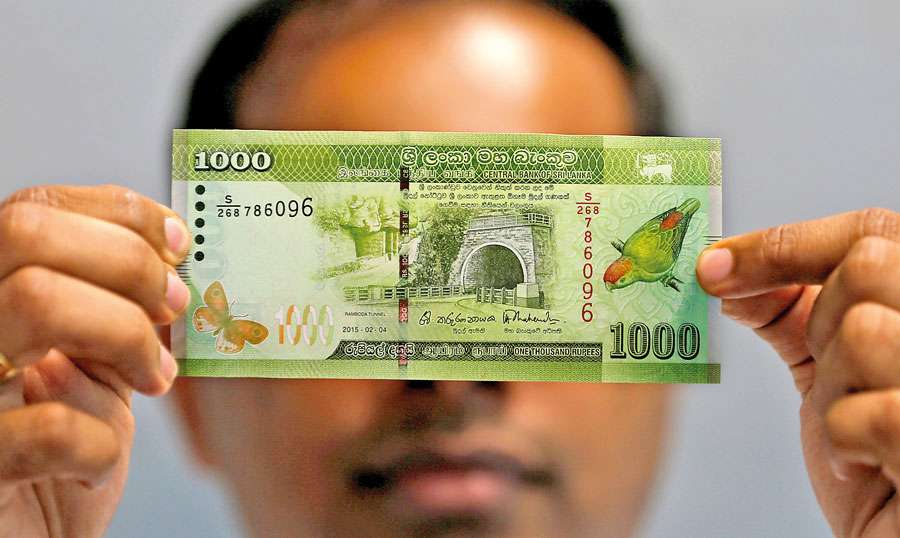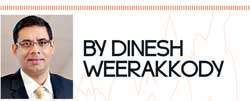 The Sri Lankan Rupee in the last eight weeks has taken a beating like many other Asian currencies as a result of the dollar rally.

The government rightly pointed out that many of the other currencies had taken a bigger beating. This week the rupee hit a fresh low of 169.05 on Wednesday on importer dollar demand, intervention by the Central Bank limited the fall.

There was unnecessary speculation that it will hit 180 by the year end, fuelled largely by offhand statements made by some politicians. Finance Minister Samaraweera went to the extent of advising people to buy local products and shun unnecessary imports in order to reduce the trade deficit and help stabilize a weak rupee.

Prime Minister Ranil Wickremesinghe, who clearly knows the consequences of a prolonged FX crisis, said the government would take every measure to impose taxes to curb imports by up to US$ 1 billion to face the currency crisis. He should immediately start by increasing the taxes on super luxuries, starting with top-end cars and set an example to stop the unnecessary overseas travel of his Government officials and ministers to drive home the point that we actually have a serious crisis that we need to manage.

CB intervention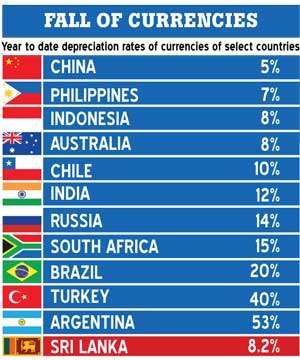 On the other hand, the Central Bank under pressure said it would certainly intervene aggressively to curb excess volatility in the exchange rate. Central Bank Governor Dr. Indrajit Coomaraswamy addressing the Cyber Security Summit last week said during 2011/12, the former administration had invested US$ 4.2 billion out of its reserves to defend the rupee.

Yet, it could not prevent the depreciation of the rupee by 13.5 percent. Similarly, in 2015, under the present regime, the Central Bank had spent US$ 1.2 billion to protect the rupee but the rupee depreciated by 9 percent. So he said it is a difficult choice.

Sri Lanka however today is in a critical situation because of our huge trade deficit. Exporters expect the rupee to be under pressure due to continued importer dollar demand and very will likely to play hard ball. The rupee this month alone has weakened 4.6 percent so far this month after a 1.2 percent drop last month, and is down 10 percent so far this year.

US Dollar rally
The dollar rose modestly on Wednesday before a widely-anticipated Federal Reserve interest rate hike priced in by investors still on the edge about a trade row between the United States and China.

The US Fed hiked rates at the September meeting, as widely expected. So far most Asian markets have had a muted reaction to today's second straight quarter of dollar-supportive rate increase by the Fed. Therefore the dollar rally will likely to continue, that will obviously increases debt service costs in hard currency for Sri Lanka and foreign investors will look to convert their assets to US$.

The other big concern for markets has been the concern about trade wars and what that means for global growth and the rising petroleum prices will be felt in 2019. Overall 2018 Q4, put all these variables together: Fed tightening, dollar's strength, trade wars and prospects for global growth wearing down a bit, rising oil prices – it's certainly going to be a very challenging environment for most Asian markets.

Moreover high net worth investors, especially in bond markets, are now reallocating their capital to the United States, where the yields on Treasury bonds are rising in tandem with US interest rates.

Way forward
The Fed has now raised interest rates for the third time this year on Wednesday. It still foresees another rate hike in December, three more next year, and one increase in 2020. A strengthening US dollar will continue to depreciate the rupee given that we have big dollar denominated oil imports and other dollar demands. The falling rupee suggests that monetary policy will get tightened further 2019, however being an election year the government will however have to engage in populist spending. Unfortunately for Sri Lanka, unlike India that has US$ 409 billion in foreign exchange reserves that enables it to weather any currency shocks, we have very little. Therefore the rising oil prices combined with a weakening rupee now threaten to take back the economic advantage we had gained in 16-17.

Therefore, the country desperately needs to have economic growth largely led by exports and FDI to create the jobs to absorb the youth entering the job market annually and meet our external obligations. That requires the best brains in both the government and the private sector to work together collaboratively. In the final analysis, though the US$ appreciation is hurting Sri Lanka, it is a blessing in disguise for Sri Lanka to aggressively work towards increasing FDI and exports.
(The writer is a
Thought Leader)