---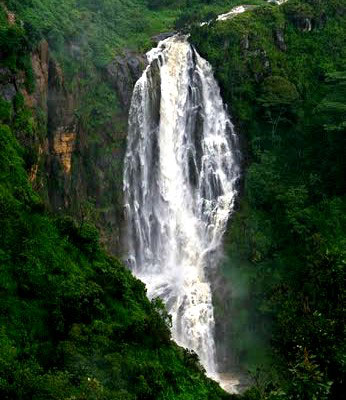 Even though human are slashing and destroying the natural beauty of the world, still there are many wonderful nature creations are proudly standing in Sri Lanka. Among many nature wonders, Devon Waterfall is one of popular waterfalls, which has an incredible scenery and awe-inspiring power of water and is located in Talawakele, Nuwara Eliya, Sri Lanka. This dramatic waterfall is known as the "Veil of the Valley" because of its unique formation and it is with an impressive height of 97 meters.
Devon Waterfall is the 19th highest waterfall in Sri Lanka and the name of "Devon" derives from a pioneer English coffee planter called Devon. Travelers can easily reach this Devon Waterfall via Avissawella – Nuwara Eliya A7 Highway and it is located at a convenient location where anyone can make a stop. But if you want to have adventurous things, you have to find the top of the falls through Dimbula – Nawalapitiya road. The base of the Devon Waterfall is also another dramatic location there and travelers can reach it via lush tea estates. It is located some 500 meters down. However, the best, enormous and attractive views of Devon Waterfall can be captured by viewing from Dimbula, where has a dedicated viewing platform. While travelling by a train on the Kandy to Nuwata Eliya line (rail tracks closer to Waagoda) also, travelers can enjoy the fascinating views of this Devon Waterfall. Not only that, but travelers can view these amazing sceneries of this fall from the hamlet of Midigama.
Therefore, travelers those who to lost in greenery and water world, Nuwara Eliya and Ratnapura areas are some of best areas in Sri Lanka and this Devon Waterfall is one of the best destinations. And there are many other noteworthy things of bio diversity to see and enjoy there including Bambarakanda Waterfall, Bakers Waterfall, St Clairs Waterfall and Diyaluma Waterfall. And there is wide range of eco-friendly affordable and best Nuwara Eliya hotels and Ratnapura Hotels available, out of endless selection of Hotels in Sri Lanka. So, it's time to get in touch with one of planet's mightiest nature creations; Devon Waterfall.