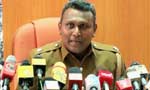 A rundown of the causes of death and crimes statistics provided by the Police Department yesterday showed that while the number of reported rape, suicides and murders in the country had decreased slightly, the number of accidents had increased marginally when compared to 2014.
Speaking at a media briefing Police Spokesman ASP Ruwan Gunasekara said that of the 1,854 incidents of rape reported across the island in 2015, 1,501 were incidents of statutory rape.
"As of 30 November 2015, we had 1,854 incidents reported to us, while there were 2008 cases reported in 2014," he said.
The spokesman went on to say that legal action had been taken in 93 percent of the incidents reported, while several others were being investigated.
Commenting on the high number of statutory rape cases, ASP Gunasekara said that 1,209 of the 1,501 reported was consensual.
"Even though it is consensual it is a crime as they are not of legal age," he said.
Revealing the data for murder in 2015, ASP Gunasekara said as of November 2015, a total of 441 incidents had been reported across the island and investigations of 390 murders had been completed.
"A total of 548 incidents were reported in 2014 of which investigations of 477 have been completed," he said.
Motor traffic accidents had killed 2,444 in 2,260 accidents in 2014 with the number of deaths increasing to 2,771 in 2,566 accidents in 2015.
The Spokesman said that 2,375 individuals had committed suicide as of September 2015 while 3,144 individuals had committed suicide in 2014.
"Twenty eight persons between the ages of 17 - 20 were reported to have committed suicide over love affairs last year" he said.
At least 688 persons had drowned in 2015, while the number was 859 in 2014. At least 122 persons had been electrocuted in 2014, while 103 individuals died as of September 2015.
Rapes murders accidents suicides drowning
2015 1854 441 2771 2375 688
2014 2008 548 2444 3144 859
(Darshana Sanjeewa)