---

Last Saturday was the UN World Micro, Small, and Medium Enterprises Day, and in light of that, focus should be given to Sri Lanka's small businesses and the challenges they face.
Sri Lankan micro and small enterprises form a substantial part of our economy. Sole proprietorships account for 63.1 percent of all businesses in the country, and account for 27.1 percent of national employment. However, they face a myriad of challenges, and this focus on improving their business environment is welcome. As highlighted in a study conducted by the Advocata Institute on the regulatory barriers faced by micro and small enterprises, the three main challenges faced are access to finance, labour and rent.
In addition, 45 percent of micro-enterprises and 10 percent of small enterprises remain unregistered, exacerbating these problems. Unregistered businesses are excluded from formal sources of finance, business networks, and do not qualify for government assistance.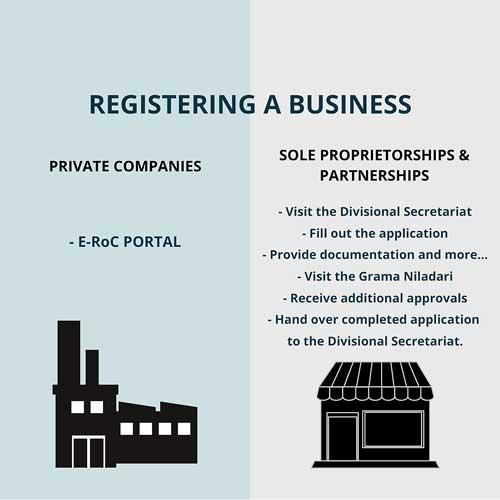 In early March this year, the Cabinet approved the establishment of 'one-stop shops' for micro and small businesses in Sri Lanka. This project is now moving forward, with the government working with the EU to set up these 'one-stop shops' in each district; with the aim of streamlining the registration process and providing assistance on issues of access to technology, quality control and access to markets. However, what else is there to be done?
The problem of registration
Registering a business in Sri Lanka has always been a long, tedious process; one that discouraged businesses and negatively impacted our ease of doing business ranking. However, in 2018, Sri Lanka was witness to some welcome reform with the launch of 'E-RoC portal', which streamlined registration, and brought the process completely online. This success in reform was reflected in the country's ranking on the ease of doing business ranking and was hailed as a reform success.
However, the E-RoC portal is only applicable to the registration of private companies.
In Sri Lanka, the registration of private companies is governed by the Companies Act No 07 of 2007, while the registration of sole proprietorships and partnerships are governed by Business Names Ordinance No 06 of 1918. As a result, the E-RoC could not be broadened to include the sole proprietors and partnerships.
Ninety seven percent of micro businesses in Sri Lanka and 85 percent of small businesses have registered their business as sole proprietorships, with only 3 percent of the businesses surveyed having registered themselves as a partnership, and 2 percent registering themselves as a Private Limited Company. In other words, for the vast majority of micro and small businesses in Sri Lanka, their registration process is long, tedious and unnecessarily convoluted.
How does business registration work for sole proprietors and partnerships?
The process of registration is implemented by the Divisional Secretariats. At best, the country currently has nine different regulatory processes for the registration of sole proprietors and partnerships. The process of registering a sole proprietorship or a partnership in Sri Lanka is a time consuming, complicated task, with the main steps detailed below;
1.Visit the Divisional Secretariat and collect form and instructions
2.
Fill out the application
a.Proof of ownership of business premises
b.Original deed and notarised copy or
c.Original rent agreement and notarised copy, or
d.No Objection letter from the owner of the premises
e.NIC copy
f.Tax assessment notification for the premises
g.Copy of the partnership business agreement
4.
Visit the Grama Niladari and get the application and attached documents approved
5.
Receive additional approvals depending on the business type eg: PHI approval
6.
Hand over completed application to the Divisional Secretariat.
A majority of provinces do not have the application for business registration or the instructions sheet available for download from the Divisional Secretariat or Provincial Council website, and the instruction form is not always available in all three languages. This is in comparison to much simpler processes that have become standard internationally, and have also been replicated in Sri Lanka, as was seen with the E-RoC reform for private companies.
Address the problem at hand
According to the island-wide survey conducted by the Advocata Institute, over 80 percent of respondents found the Grama Niladhari and the Divisional Secretariat to be an effective touch point.
This would indicate that improving service at this point may not be an immediate requirement. Instead, focus should be placed on reforming the registration process for micro and small enterprises.
Sri Lanka's micro and small enterprises will have faced a significant economic fallout during the curfew period. The government has recognised this, and responded with policy action like the debt moratorium to help ease some financial pressure. However, this is unlikely to be sufficient.
These policies would only apply to entities that have registered their business, and would leave the segment of unregistered businesses without support. It is vital that the registration process is streamlined, making it easier for these businesses to enter the formal sector and reap the benefits for formal sources of finance, and better access to markets that come with formalisation. There is a window for reform that exists, and we hope that the government takes advantage of this to bring about some much needed change.
(Aneetha Warusavitarana is the Research Manager at the Advocata Institute and can be contacted at aneetha@advocata.org or @AneethaW on Twitter. The opinions expressed are the author's own views. They may not necessarily reflect the views of the Advocata Institute, or anyone affiliated with the institute)