---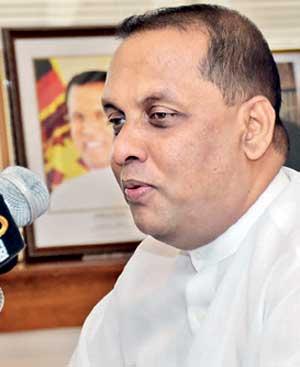 By Sandun A Jayasekera
Power and Energy Minister Mahinda Amaraweera yesterday urged motorists not to resort to panic buying at fuel stations as the Ceylon Petroleum Storage Terminal Ltd (CPSTL) had sufficient stocks of petrol, diesel and kerosene for 20 days.
Two or three more oil tankers are reaching the Colombo harbour in the next few days, he added.

Minister Amaraweera said the first Peradeniya-bound train with 80,000 metric tonnes of petrol and diesel in 14 tanks left the Kolonnawa oil installation last morning and another train with 40,000 metric tonnes of petrol and diesel left for Batticaloa last afternoon.

Meanwhile, the SLTB has allocated 260 buses to transport health services staff free of charge from today in recognition of their dedicated service to control the deadly COVID 19.

Minister Amaraweera has also instructed the SLTB to provide transport to hospital staff in any part of the country if and when they request the service.

Four more trains with 40,000 metric tonnes of fuel are scheduled to leave the Kolonnawa oil installation today to various parts of the country.