---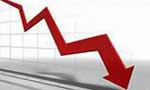 Sri Lanka's inflation in November fell for the fourth consecutive month Year-on-Year (YoY) to 1.5 percent from 1.6 percent a month ago, recording the lowest headline inflation seen in five years, according to data released by the Department of Census and Statistics (DCS).
With headline inflation reaching near zero levels, Sri Lanka may now have to worry about a looming deflationary economy, similar to now struggling Euro region and Japan which have sunk in deflation for many years.

It was only last week Central Bank Governor Ajith Nivard Cabraal cautioned of a possible deflation if the fuel prices are further reduced, as the administered prices of non-food categories have already been easing the inflation.

A cut in fuel prices ahead of January 8 presidential polls is largely expected amid unprecedented fall in the global fuel prices due to higher supplies from the America and the dwindling demand from the world's second largest economy China, as the economy is now slowing down after years of double digit growth.
Instead of passing the benefit to the end consumer, Cabraal proposed to make use of the falling global crude prices to improve the financial performance of the loss making Ceylon Petroleum Corporation and Ceylon Electricity Board, which together incur losses close to 2 percent of GDP.

However, his deputy Dr. Nandalal Weerasinghe last month ruled out a possible deflation scenario."We never want to or no country would target zero inflation. That's a very bad thing. That will have many adverse impacts on the economy," Dr. Weerasinghe stressed.

Meanwhile, ex-Central Banker Dr. W.A. Wijewardena recently pointed out that the fall in inflation due to cut in administered prices could not be repeated every month. He said, as a result, Sri Lanka is now caught up in a 'lowflation trap', a malaise currently being experienced by the European Union. According to Dr. Wijewardena, despite Sri Lanka's inflation falling to historical low levels, the bank lending rates have failed to keep pace to generate a decline in real lending rates and thus does not induce borrowers to use bank credit – leading to lower credit growth.In November 2014, the Colombo Consumer Price Index (CCPI) edged up by two index points to 179.2 from 179 in October.

The annual average inflation slowed to 3.5 percent from 3.8 percent in October.In recent times, questions were raised by legislatures and the academia on the credibility and reliability of the national numbers prepared and presented by DCS and the Central Bank, specially inflation and GDP figures.

However, DCS Director General D.C.A Gunawardena defended his department and said his staff makes sure to take over 40 quotations throughout the month before preparing the index."We are very transparent. We collect prices by sending our people. To estimate the price of one item, we get quotations from 40. That itself says the reliability (of our numbers)," Gunawardena said last month.

The Central Bank boasts of maintaining single digit inflation for 71 months in a row.He also said as customary, the inflation basket is due to be revised next year, based on the household income survey conducted in 2012/13, and his objective is to change the mix of goods and services in the CCPI basket and their weightings to better reflect changing consumer patterns.The CCPI basket was last revised in 2006/7.Gunawardena however refuted possible deflation in Sri Lanka.Meanwhile the core inflation, which reflects underlying inflation in the economy, remained unchanged in November 2014 at 3.6 percent on a YoY basis as recorded in the previous month.