---

Tourist arrivals to Sri Lanka in the month of February rose 11.6 percent year-on-year (YoY) to 93,232, helped by increased arrivals from East Asian and Western and Eastern European blocks, the official data provided by the Sri Lanka Tourism Development Authority showed.

Tourists from Western Europe rose 13.7 percent YoY to 43,635, while arrivals from South Asia edged up 2.5 percent YoY to 15,897.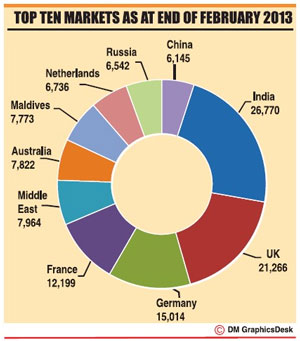 The number of Indian tourists arrived in the island during February fell 1.8 percent YoY to 11,139.

The number of tourists from Germany and Italy during February rose 8.1 percent and 33.2 percent to 8,276 and 2,083, respectively. Arrivals from the UK rose 26.1 percent YoY to 11,031.

Visitors from East Asia rose 22.7 percent YoY to 12,589 with Chinese tourist arrivals to the country rising 89.1 percent YoY to 3,669. Tourist arrivals from Eastern Europe, which included Russia, rose 17 percent YoY to 9,218. The number of Russian tourists arrived in the country rose 9.6 percent YoY to 3,286. Little over one million tourists visited Sri Lanka during 2012 and the country has set itself a target to welcome 2.5 million by 2016.

Earnings from tourism exceeded US $ 1 billion in 2012, the highest recorded in a calendar year, recording a growth of 25.1 percent. However, guest nights and occupancy rates have both declined in graded hotels in 2012.