---

Continued from Saturday, April 4, 2014

Preliminary information gleaned by the Police in Pallai from 34-year-old Kumarasingham Kulasankar alias Muhunthan and 28-year-old Augustine Gnanaseelan alias Gnana revealed vague details of a plot to revive the Liberation Tigers of Tamil Eelam (LTTE) and commence operations in Sri Lanka. Interestingly enough the large military presence in the North and East did not play any significant role in the detection of the LTTE revival attempt initially.


It was police suspicion during a routine patrol that led to the arrests and uncovering of the sinister plan. It was this arrest on the night of March 5 and 6 this year in the northern town of Pallai that proved to be the turning point.

The Terrorist Investigation Division (TID) of the Police was alerted. After conducting further inquiries with Kulasankar and Gnanaseelan the TID informed the upper echelons of the Defence Establishment of the situation. This resulted in National intelligence and military intelligence being drawn in. All three intelligence arms shed customary inter-departmental rivalry and acted collectively to combat the perceived LTTE threat. Information and resources were pooled as intelligence sleuths got down to work.

As the investigations got underway it became clear that the poster-pasting phenomenon was only the tip of the ice berg. A swift crackdown became imminently imperative. There was however a slight hitch. The UN Human Rights Council (UNHRC) was expected to debate and pass a resolution on the Sri Lankan human rights situation in late March. A security crackdown utilising provisions of the draconinan Prevention of Terrorsism Act (PTA) was likely to receive negative publicity. This may prove detrimental to Sri Lanka in Geneva. Would it be better to commence the crackdown after the Geneva UN sessions were over to avoid negative publicity?

This line of thought was aired at an official level and brought to the notice of President Mahinda Rajapaksa who is also the Defence Minister and his brother Gotabaya Rajapaksa the Secretary of Defence and Urban Development. While the postponing of a crackdown may or may not have helped Sri Lanka's prospects in Geneva there was the danger of the trail going cold due to a delay. There was also the unknown element. There was no knowledge at that time of the extent of the LTTE renaissance project. If it was indeed a very serious threat then delay could mean disaster.




"The first was about why the mine detectors were stolen. Gobi was in possession of certain maps and diagrams indicating areas where arms and ammunition had been buried by the LTTE during the final phases of the war. Even as the army advanced and Tigers retreated, the LTTE dumped arms and ammunition at strategic locations."


When these points and counterpoints were placed before the President and his brother their response was firm. The security of the country came first and not the proceedings in Geneva. The security apparatus was given an unambiguous green light to go ahead. The security authorities were instructed to proceed with investigations with all the resources at their disposal. The only condition was that the people should not be inconvenienced greatly. Thus the security crackdown commenced regardless of any potential adverse fall-out in Geneva.



Switzerland

Intensive interrogation of the two arrested in Pallai and seizure of a computer owned by Kulasankar alias Muhunthan revealed further information. Both men were former Tigers who had not surrendered after the war ended. Thus both had not been detained and rehabilitated. Kulashankar and Gnanaseelan admitted that they had been freshly recruited by Ponniah Selvanayagam Kajeepan alias Gobi aka Kaasiyan. Their task was to widely distribute leaflets and paste posters under the aegis of "Thamil Eezha Kaavalargal" or guardians of Tamil Eelam. They were receiving monthly payments of Rs.20,000 each from Switzerland for this. Gnanaseelan had also been promised a three-wheeler in due course. Posters describing Gobi as wanted were put up by the Police after his name transpired during inquiries as the man behind the LTTE revival attempt.

Investigations further disclosed that both Kulashankar and Gnanaseelan were in contact with Paramanathan Yathavan alias Santhosham master in Switzerland. Santhosham master was a senior LTTE cadre who had surrendered after the war. After being released after rehabilitation he had sought political asylum in Switzerland. He was apparently linked to the Nediyavan faction of the overseas LTTE but maintained good relations with the rival Vinayagam LTTE faction also. The direct paymaster from Switzerland was known as Nesan.

The next important link to be uncovered was a woman named Madini Raveendran. She was a former LTTE woman cadre who had served in the Maalathy womens' brigade under the nom de guerre "Nitharshana". She too had not surrendered after the war and was now living with her family at 56/2 Thottiadi in Viswamadhu, which was an agrarian settlement along the Paranthan –Mullaitheevu road. Madini too had reportedly received money through Santhosham master in Switzerland.

When Madini Raveendran's name turned up it was found that she was already being monitored as a "person of interest" by military intelligence authorities. Madini and family members were detained. Thereafter the family members who were all found to be innocent were released. Information given by Madini Raveendran resulted in the unearthing of an arms cache concealed in a plastic barrel buried in the backyard of property belonging to her family.
The contents of the barrel according to security sources were as follows: 1 x metal detector; 5 x 60 mm mortar bombs; 2 x 81 mm mortar bombs; 2 x rocket propelled grenades (RPG); 3 x Thamilan (LTTE hand grenades); 1x 5kg unserviceable claymore mine; 378 x T-56 ammunition and 1 x 12-bore shotgun ammunition.



Metal Detector

Madini Raveendran had an interesting explanation for the unearthed plastic barrel with explosive contents. After being recruited by Gobi, she had received Rs.20,000 from Switzerland. Suddenly one day after dusk, she got a telephone call from Santhosham master in Switzerland. He had told Madini that a barrel had been placed at the gate to her house. She was to take it and bury it with all contents in her backyard and await further instructions. Madini had gone to the gate and found the barrel. She had followed Santhosham master's instructions and acted accordingly.

A metal detector being found in the plastic barrel at Madini Raveendran's compound was a startling discovery. Inquiries revealed that it was one of five such metal detectors reported stolen by an NGO involved in demining. The Devlon Assistance for Social Harmony bearing the acronym DASH is a Sri Lankan non –profit, non –governmental organization (NGO) engaged in de-mining work in the Kilinochchi and Mullaitivu districts. It has over 200 employees of whom around 90% are Tamil-speaking. DASH receives funds from Japan, Australia and Germany.




"Security personnel were immensely relieved to find that no specific blueprint to assassinate President Rajapaksa or Gotabaya Rajapaksa was discovered. Apparently the reconnaissance necessary to devise a plan of assassination was in its preliminary stages."


On January 16, 2014 a complaint was made to the Police at Sampathnuwara in Weli-Oya/Manal Aaru that five metal detectors used for detecting buried mines had been stolen overnight. The five metal detectors bearing the serial numbers N-21838,N-21741, N-21844, N-17491 and N-17804 were being used by de-miners Krishnadas Theesan, Y.G Wijegunawardhana, A.M.A.S.T. Alagiyawanna, N.M.I.P. Nawarathna and Paramanathan Jeevanathan respectively.

After internal inquiries the officials at DASH had terminated the services of two security guards who were on duty on Jan 15-16 night when the metal detectors were stolen. They were Rasenthiran Jenoasan from Oddusuddaan and Rukman Ranaweera from Weli-Oya. Subsequently on February 10 Police acting on information received from the public found empty metal detector containers and a user manual in Monarawewa village in the Weli-Oya/Manal Aaru region.

With the discovery of one of the five missing metal detectors at Viswamadhu the investigations took on a fresh turn. Information from Kumarasingham Kulasankar, Augustine Gnanaseelan and Madini Raveendran resulted in eight more suspects being arrested. Chief among these was Poobalasingham Nishanthan of No: 222, Jayanthi Nagar in Kilinochchi. Nishanthan was self-employed as a freelance photographer. He too was a former LTTE cadre who had not surrendered. Information from Nishanthan who was associated directly with Gobi gave investigators two valuable leads.



Arsenals

The first was about why the mine detectors were stolen. Gobi was in possession of certain maps and diagrams indicating areas where arms and ammunition had been buried by the LTTE during the final phases of the war. Even as the army advanced and Tigers retreated, the LTTE dumped arms and ammunition at strategic locations. The idea was for Tiger squads to infiltrate clandestinely later and attack the army from the rear after recovering the hidden arms caches. The metal detectors were now needed to locate the buried arms and ammunition and use them for attacks in the future by the revived LTTE.

A secondary aspect regarding metal detectors was to search for buried gold jewellery. Apparently the LTTE which had hoarded a vast amount of gold and jewellery seized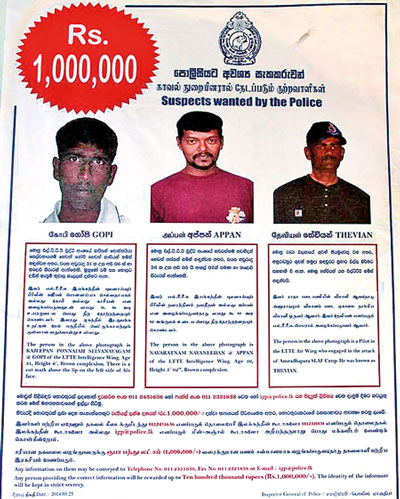 from many Tamil families had buried them in certain spots. Gobi had been given a rough diagram of where the gold was buried. Metal detectors were necessary to locate these treasure troves also.

With the landscape rapidly changing through resettlement and reconstruction after the end of the war, Gobi had found it near impossible to locate spots marked on the maps and diagrams. Therefore he had enlisted the services of Nishanthan who travelled about the northern mainland of Wanni on his motor cycle in his professional capacity of photographer. Nishanthan who was well-versed in the usage of global positioning systems had spent considerable time to track down the strategic spots with buried arsenals and treasure troves.

At least three buried arsenals of differing quantities and one buried chest of gold had been unearthed through excavations aided by the stolen metal detectors. The arms cache found at Madini Raveendran's residence belonged to an unearthed arsenal. Subsequently security authorities have been able to seize four more different caches of arms in addition to the one found in Madini Raveendran's compound.

While the first lead obtained through Nishanthan was important to intelligence operatives it was the second lead gleaned through the freelance photographer that rocked the security establishment. This was about possible plans to assassinate top figures in the ruling establishment as well as prominent Tamils who were cooperating with the government.




Assasination

Gobi and Nishanthan had known each other well during their days in the LTTE and could be termed as close friends. As such Gobi had trusted Nishanthan and spoken freely with him about his aims and plans. Among such plans was a crucial one with the objective of assassinating high profile targets. Gobi had stated that the easiest way to capture worldwide attention was a spectacular assassination. He had also got Nishanthan to engage in reconnaissance (called "rekki") missions in Kilinochchi and Mullaitheevu districts.
Nishanthan revealed that Gobi was thinking of four Tamils as possible assassination targets. They were Eelam Peoples Democratic Party (EPDP) leader and Traditional Industries Minister Douglas Devananda, Deputy Minister and Sri Lanka Freedom party (SLFP) vice-president Vinayagamoorthy Muralitharan alias Karuna, Kilinochchi District SLFP organizer Geetanjali Naguleswaran and former LTTE Chief Arms procurer Selvarasah Pathmanathan alias KP who succeeded Veluppillai Prabhakaran as Tiger Chief after the LTTE supremo was killed. KP was captured in Malaysia and brought to Sri Lanka. He is now running orphanages in Mullaitivu and Kilinochchi Districts.

What really jolted security sleuths was another vital piece of information disclosed by Nishanthan. The Kilinochchi photographer now in custody told his interrogators that Gobi had spoken of targeting President Rajapaksa or his brother Gotabaya if possible in Colombo. According to Nishanthan Gobi had talked of purchasing gas cylinders in Colombo and putting them inside a heavy vehicle and then exploding the vehicle at a strategic location at the appropriate time. Gobi who had made several trips to Colombo told Nishanthan that security was not very tight now and that a top target could be attacked successfully using the element of surprise.

Nishanthan also told investigators that Gobi had spoken about a bakery in Colombo being set up as a safe house with funding from Canada and that a trusted point man was already based there doing "rekke" or reconnaissance.

Troubled and agitated by Poobalasingham Nishanthan's revelations, security officials reacted rapidly. Following up on the information received the security sleuths raided a bakery cum food outlet in Dehiwela. The bakery named, "Every Day" was located in close proximity to the overhead bridge in Dehiwela. It was run by a man called Thambiah Bavananthan and a partner.

Bavanandan was a former LTTE member who surrendered after the war and had been rehabilitated. Subsequently Bavanandan had been recruited as a civil force volunteer or home guard in Kilinochchi. Later Bavanandan had gone to Colombo saying he was going to run a business financed by relatives from Canada. It now transpired that Bavanandan was Gobi's man and that the bakery was a potential LTTE safe house.



Bakery

Twelve persons including a woman allegedly connected to "Every Day" bakery were arrested. Two were detained at the TID headquarters in Colombo and the other ten at the Detention centre in Boosa. Inquiries revealed that some of the employees were utterly ignorant of the Tiger plot. There were also some who were working elsewhere in Colombo and using the bakery premises as a lodging house. Eight of those arrested were later produced in courts and were released or set free on bail. Later two more were released on bail.

Further probing disclosed that Bavanandan and another confidant had engaged in elementary surveillance of certain areas in Colombo. They had also regularly monitored movement of vehicles along the Dehiwela overhead bridge and also taken photographs. They had been particularly involved in the tracking of VIP or VVIP convoys on Galle Road. No concrete plans of assassinating specific individuals were discovered in searches of premises or the computers. A telephone believed to be used to communicate with LTTE personnel abroad was found.

Security personnel were immensely relieved to find that no specific blueprint to assassinate President Rajapaksa or Gotabaya Rajapaksa was discovered. Apparently the reconnaissance necessary to devise a plan of assassination was in its preliminary stages. While a plot to assassinate a VIP or VVIP in Colombo was in the pipeline there seemed to be no clearly designated target at the time when the Dehiwela bakery was raided. Security sources opine that the target may very well have been Mahinda or Gotabaya if the plotters had progressed and are thankful that the conspiracy was uncovered early and neutralised effectively.

Even as the probe into a suspected Colombo connection was being intensively conducted other interesting developments took place on the Northern front. With news of a possible LTTE revival buzzing on the community grapevine, many Tamils in the North began to get worried. Whatever the Tamil nationalistic feelings prevalent during election time, few Tamils in the Wanni wanted the LTTE to re-emerge. They had suffered immensely and did not want that experience again. Also it was obvious to anyone living in the north or east that a military resurgence of the LTTE was not realistically feasible. ttempting to revive the LTTE would prove to be an exercise in futility and transform the relative tranquility existing in the Tamil regions.



Information

As such the ordinary people were in no mood to stomach a Tiger revival in Sri Lanka at the behest of idiotic elements in the global Tamil Diaspora. Thus there began a trickle of information from the Tamil people of the North to security sources. Later on this trickle turned into a torrent.

This was in stark contrast to the situation in the seventies of the previous century when armed Tamil militancy first began. Then the law enforcement authorities came up against a blank wall of silence as the Tamil people simply refrained from divulging information about the "podiyal" or "boys". That past situation was nonexistent in the present post-war North and East.

Thus the security authorities began receiving information about suspicious characters and objects. Initially the only "wanted" person was Gobi. One piece of information was about a mysterious parcel kept hidden at a photo studio run by a man called Lingam in Tharmapuram in the Kilinochchi district. When TID Police in plain clothes swooped down on the premises they found the parcel had "Tamil Eelam Guardian" posters in bulk.

On the spot inquiries revealed that the parcel had been placed there by the studio owner Lingam's friend. The "friend" was none other than Navaneethan Navaratnam alias "Appan".This former LTTE intelligence wing operative was one of the Tiger trio that had embarked on the quixotic mission of reviving the LTTE. While Gobi was in charge of intelligence and Theiveegan overseeing operations, Appan was responsible for propaganda. The recent leaflets and posters were part of the propaganda effort spearheaded by Appan.



Tharmapuram

TID Police officials were also informed that Appan was a driver who travelled about widely in the Wanni. He had returned from the Middle-East. Appan was a frequent visitor to Tharmapuram in the Kilinochchi district and used to stay at a particular house whenever in the area. The TID was told that a widow and her young daughter were living in this house. The Police then undertook a covert move and asked the studio owner's wife to go to the house in question and see whether Appan was there.
While the Police maintained a low key presence at the studio the owner Lingam's wife proceeded to the house where Appan stayed frequently. The address was No 5, Indian Housing scheme, Musalampitty in the Puliyampokkanai area of Tharmapuram. The chief occupant was Ms. Jeyakumari Balendra. She had lost her husband two sons during the war. A third son had gone missing after allegedly surrendering to the Armed forces on May 15 2009. Jeyakumari was now living in Thrmapuram with her 13-year-old daughter Vibhooshika.

The studio owner's wife returned with the news that Appan was not to be seen in the house when she visited Jeyakumari. There was however another man there who resembled Gobi whose facial image was displayed on wanted posters. She identified Gobi positively when shown a clear picture.

The TID officials then decided to go for the man known as Gobi. There was no time to call in additional security personnel. Besides if Gobi got suspicious about the sudden visit by the studio owner's wife he may vacate the premises. So the TID officials took a chance and went to the Musalampitty Indian housing scheme. They parked the vehicle at a distance and walked furtively to the house. In the process the sleuths committed a grave blunder.

The Policemen left their firearms in the vehicle and walked up to the house unarmed. It was a stupid mistake. Jeyakumari Balendra was accosted and asked whether Appan or anyone else was staying there. She replied very loudly that no one was in the house except her daughter and herself. Police were a little doubtful about Jeyakumari's loud outburst and decided to see for themselves. 51 year old Sub –inspector Ratnakumara walked into the inner room where there was a bed.



Jeyakumari

Ponniah Selvanayagam Kajeepan alias Gobi was lying under the bed in Jeyakumari's house. The unarmed Ratnakumara did not see Gobi as he entered the room. He then tried to bend and look under the bed. It was then that Gobi fired the 9mm pistol he had in his possession. Taking uncomfortable aim from his horizontal position under the bed Gobi fired twice hitting the Police officer on his thigh and abdomen.

He then scampered out from under the bed and ran out through the rear firing in the air. Another unarmed cop at the rear end of the house could do nothing to apprehend the fleeing fugitive.An ambulance was hastily summoned and the injured Ratnakumara was hospitalised.

Additional security personnel were deployed. The army in large numbers was called in and a massive cordon and search operation mounted in the area. Jeyakumari was interrogated intensively. The home computer was seized and scrutinised. A search of the premises revealed a stack of Tamil Eelam posters and leaflets. More importantly another metal detector stolen from the de-mining organization DASH was found.

It was also found that Jeyakumari Balendra had three separate accounts in three different Kilinochchi banks and a fourth one in a Trincomalee bank.

When the TID officials had gone to Jeyakumari's house they were not aware of her or her daughter Vibhooshika's background. The mother and daughter were quite well known in media and Human rights activist circles as both had participated regularly in mass protests and demonstrations concerning persons who had disappeared or gone missing. Jeyakumari and Vibhooshika were regularly seen in demonstrations voicing for the 15-year-old son and brother who had gone missing after allegedly surrendering to the army. Their wails and tears attracted much media attention. Both victims talked to the media boldly about their loss.

After many hours of grilling the mother and daughter were to be taken to Kilinochchi Police station but when it was found that the daughter Vibhooshika had attained puberty only ten days ago on March 3 the Police wanted to leave her at the house of a neighbour or relative in the vicinity. The mother however said there was no one suitable to leave her with in the neighbourhood and wanted the daughter to accompany her. Police sources say it was because of the Mother's wish that the young girl was also taken along.

After further interrogation Jeyakumari Balendra was produced before the Kilinochchi Acting Magistrate and detained under the PTA. She was taken to the Boosa detention centre where the ICRC was permitted to visit her and examine prevalent conditions. The daughter Vibhooshika was also produced before the Kilinochchi Acting Magistrate and placed under the charge of Childcare and Probation officials. Vibhooshika was housed at the "Mahadeva Aachirama Saivach Chiruvar Illam" (Mahadeva Ashram Saivaite Childrens home) in Kilinochchi.The childrens home is administered by former Kilinochchi District Government Agent T. Rasanayagam who is the abode's manager. Later Vibhooshika was allowed to visit her home and take clothes and other belongings. She was also taken to Boosa to visit see her detained mother.



Shock Waves

The firing of a gun by Gobi sent shock waves down the Defence Establishment of Sri Lanka. For the first time since the war ended a Sri Lankan defence official had been fired upon and injured by someone connected to the LTTE. The country in general and the Northern province in particular have been experiencing a period of normalcy and stability since May 2009 when the LTTE known as the Tigers were defeated on the banks of the Nandhikkadal Lagoon.

Despite problems and setbacks, the country and the people had been progressing since the war ended. There had been no compelling sign of the LTTE re-emerging with firepower in the North for the past 58 months. The Tamil people themselves were living in an environment where war violence was absent. Now that relative tranquility was shattered literally and metaphorically after the gunshots in Tharmapuram. The consequences of the incident drastically altered the prevailing situation in the North.

An intensive manhunt was launched for Gobi and Appan. The military was deployed in large numbers for cordon and search operations. The silver lining however was the cooperation extended by ordinary Tamils in the North to the security forces in the campaign to counter the challenge posed by a possible LTTE re-emergence. As the days progressed the law enforcement officials made vast strides thanks to the support of the people. More and more arrests were made and ongoing investigations resulted in more and more shocking discoveries. To be continued



DBS Jeyaraj can be reached at djeyaraj2005@yahoo.com