---
Sri Lanka's first chinaman bowler Lakshan Sandakan is an admirer of Kuldeep Yadav who is India's only chinaman bowler. Sandakan's Test debut in July last year against Australia was equally sensational (four wickets in the first innings and three in the second, highest by any chinaman bowler on debut).
The 25-year-old Sandakan said, "I saw him (Kuldeep Yadav) first in the IPL. I was happy as an Asian bowler when I saw him.I saw him bowling very well. He has good control. More important thing is he has the variations a wrist spinner needs."
Sandakan could not watch Kuldeep's Test debut against Australia as his team was busy playing the home series against Bangladesh.
"I couldn't watch the entire match. Initially, I didn't even know that he has been included in the final eleven. However, I watched his bowling highlights afterwards."
"There can be many young chinamen bowlers in the world, but when they grow up, some try to make them to orthodox bowlers," Sandakan added.
"A chinaman bowler should give much effort to bowl because it is an unorthodox action. Besides, it is difficult to direct the ball to the correct spot, as we use wrist than the finger spinners. But, if they practice well, bowlers of this type can do many things."
Sandakan's ODI and the T20 debuts were also sensational.
Mathew Wade was his maiden ODI victim in his very first over and he struck with his very first ball in T20IS by claiming the wicket of South Africa's Mangaliso Mosehle.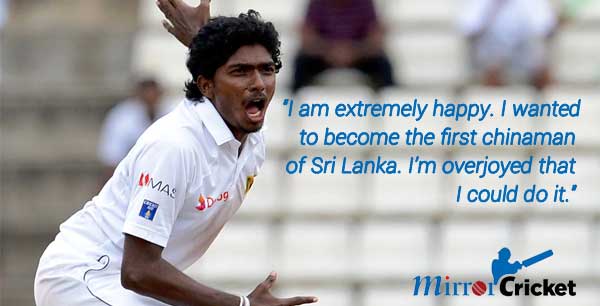 Both Sandakan and Kuldeep may get a chance to bowl each other when Team India tours Sri Lanka in July/ August this year. "I would be delighted to meet him. So, I would tell him that it's a pleasure to meet him, and I would also wish him good luck," he signed off.