---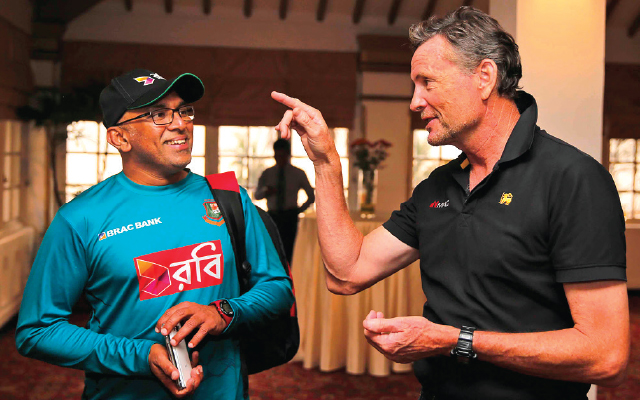 by Champika Fernando
Sri Lanka Cricket is reportedly in discussions with former national cricketer Chandika Hathurusingha to replace head coach Graham Ford. Fielding coach Nic Pothas has taken over during the interim.
Ford left the team midway through his four-year contract after Sri Lanka's early exit from the ICC Champion's Trophy. When he was handed a 45-months contract early last year, current SLC administrators had considered Ford to be the ideal candidate to carry the team through its transition period.
He saw Sri Lanka attain their first-ever series whitewash against Australia at home, followed by a Test and limited-over triumph in Zimbabwe. Since then, however, the team has been through a lean patch losing four out of five Test matches and eight out of 11 ODIs.
Hathurusingha is currently head coach of the Bangladesh national team with whom he is contracted till the 2019 World Cup. Under his mentorship, the Tigers made giant strides in world cricket. They reached the semi-finals of the recent Champions Trophy tournament in England and also drew their recent series against Sri Lanka for the first time in Bangladesh cricket history.
In 2009, Hathurusingha was the Sri Lankan team's "shadow coach" but was cold-shouldered by a controversial administration headed by DS de Silva despite a glowing recommendation made on his behalf by Kumar Sangakkara. With Sangakkara's pleas failing to convince the Board, Hathurusingha left for Australia and then moved on to Bangladesh. While in Australia he was the Assistant Coach of New South Wales cricket team and also the head coach of Sydney Thunders.
In recent times, however, Hathurusingha has repeatedly expressed his willingness to join ranks with Sri Lanka Cricket."I will absolutely come [if SLC asks me to]," Hathurusingha was quoted as saying by cricinfo.com in March 2017.
"I am in this position today because of all I learned while playing cricket in Sri Lanka," he is reported to have said. "After I learned everything in Sri Lanka for about 20 years, I went to Australia and learned things there as well. But if Sri Lanka invites me at any time, I will happily come back to do something for the country."
Sri Lanka has relied heavily on foreign experts in the past but is now keen to enlist a homegrown one to bridge the communication gap. South African bowler Allan Donald, who was on a two month fast bowling consultancy position with the national team, has said it was a big challenge to overcome communication difficulties as English was not the language of cricket in Sri Lanka.
"It takes a while to build relationships and it's something that needs to be worked on a daily basis," he is quoted by cricinfo.com as saying. I tried to get to know personalities as much as possible but the major challenge was the communication gap," Donald was quoted saying by cricinfo.com recently. "When you're coaching, you've got to be precise about delivering your message, and when you're not speaking the same language, you can never really be sure whether what you're saying is being understood the way you meant it to be."
Hathurusingha was one of the two candidates listed for the position last year but SLC opted for Ford, a highly rated South African, to take Sri Lanka through the transition period. Thus, Ford resigned from Surrey, the English county, and made his re-entry to Sri Lankan fold (he was Sri Lanka coach also from 2012-2014).
The exact reasons for Ford's exit are yet to be known, it is understood the 56-year-old had issues with Asanka Gurusinha since he took over as Sri Lanka's cricket manager alleging -- "exceeding his limits".
The Sunday Times exclusively reported last week that Ford left the island with all his belongings after a failed attempt to resolve these problems.
According to reliable sources, before Sri Lanka met India for its second match of the ICC Champions Trophy, Ford fired a letter to the Board saying he has issues with Gurusinha. Sri Lanka Cricket replied that it had taken a policy decision to appoint a Cricket Manager and that this will not be changed. In terms of hierarchy, Ford was answerable to Gurusinha. Upon return from the ICC Champion's Trophy in England, Ford had an open discussion with the Board before leaving the country.
Sri Lanka's national team has had a total of six coaches since the unceremonious sacking of Australian Geoff Marsh in 2012. Ironically, only Ford completed his contract during his first stint as Marsh's replacement. He was followed by Paul Farbrace as head coach.
Farbrace, however, decamped to England soon after Sri Lanka's triumph at the 2014 World T20 tournament. Marvan Atapattu replaced him on an interim basis initially. He was made head coach in October that year. Atapattu called time out after Sri Lanka's home defeat to India in September 2015 and Jerome Jayaratne took on the team during the gap before Ford entered for the second stint.
Sri Lanka Cricket on Saturday officially confirmed Ford's exit ending his 15-month stay with the team.
"This was a decision arrived at mutually after careful consideration and deliberation and we are both confident of its propriety," SLC President said in a statement. "He joined us at a time where we were quoted by the ICC as being on the 'verge of suspension' and at a time where things were volatile and uncertain, Ford had faith in us and has given us his fullest support. Ford epitomizes the character of cricket as a true gentleman, and we are indeed sorry to see him go.
Ford said "It's been a privilege to work with these talented young men over the past 15 months. Their passion for the sport is inspiring, as is indeed this nation's. Sri Lanka has grown on me, and although we've made the decision to part ways where coaching is concerned, she will always have a little piece of my heart.