---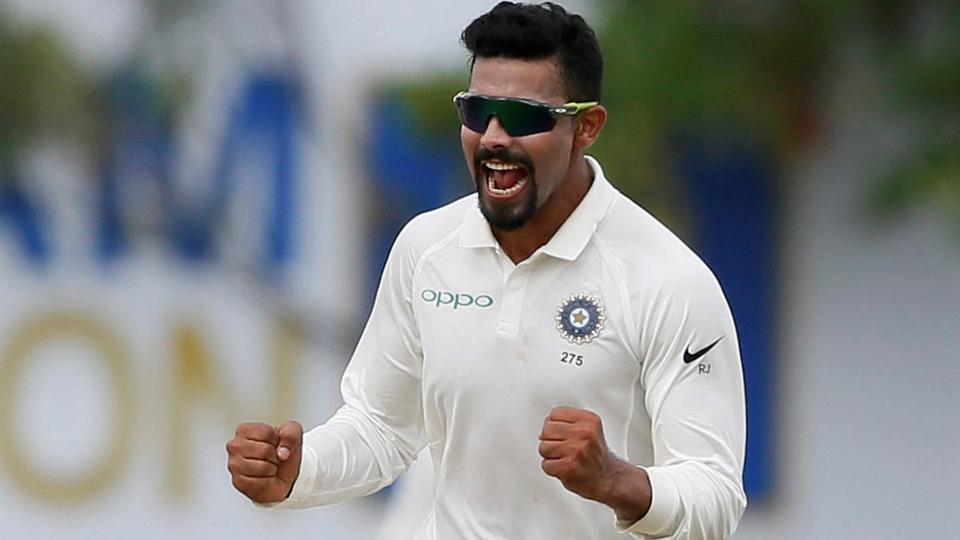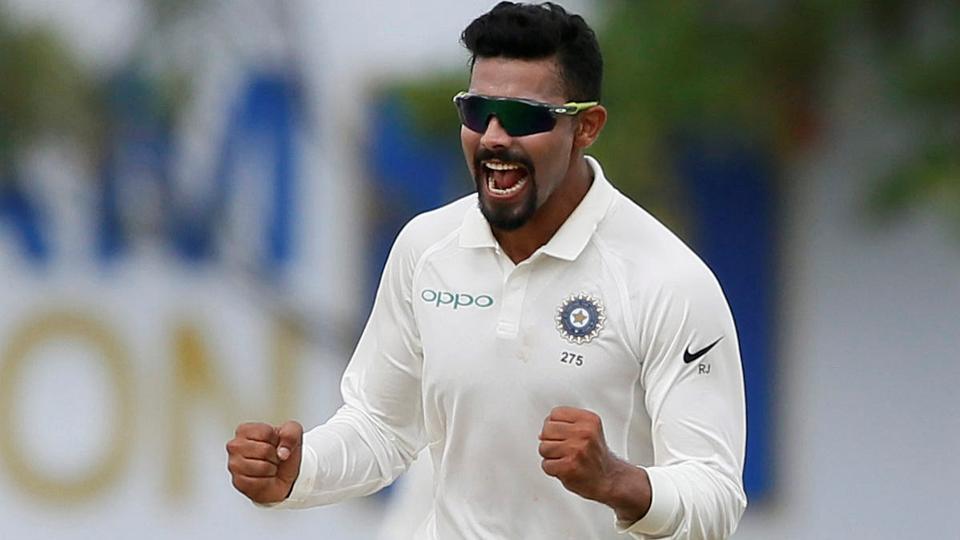 Left-arm spinner Ravindra Jadeja broke the back of Sri Lanka's resistance after lunch to secure India's series-clinching victory by an innings and 53 runs in the second test on Sunday.
The all-rounder claimed his ninth five-wicket haul as Sri Lanka, forced to follow on after being shot out for 183 in the first innings, made 386 in the second before collapsing minutes before the tea break on the penultimate day.
It was a first victory by an innings or more for India in Sri Lanka and, following their biggest victory by runs in Galle last week, ensured an eighth straight series triumph under Virat Kohli.
"We said this morning that even if we don't get wickets early on, we are going to enjoy the tough times because they really improve you as a side and you need those tough times to improve as cricketers," the India captain said.

"We were very happy that we went through that difficult phase as well, for you never want to get complacent as a side."
Kohli will fancy equalling Australia's modern era record of nine consecutive test series wins when India host Sri Lanka for three matches later this year.
Sri Lanka will take a modicom of confidence into that series from a second innings resurgence that was built around the 191-run stand between Dimuth Karunaratne and Kusal Mendis, who fell for 110 on Saturday.
Lefthander Karunaratne's gallant 141 merely delayed the inevitable on Sunday, though, as Jadeja (5-152) and spin partner Ravichandran Ashwin (2-132) tormented Sri Lanka on a worn-out track where the ball spun alarmingly and often kicked off.
Sri Lanka had resumed the fourth day on 209-2 at the Sinhalese Sports Cricket Ground with Karunaratne continuing his grim battle with the Indian bowlers.
Nightwatchman Malinda Pushpakumara threw away his wicket, attempting a bizarre reverse slog against Jadeja who dismissed Sri Lanka skipper Dinesh Chandimal for two in his next over.
Karunaratne and former captain Angelo Mathews resisted India for a while during a 69-run stand but Jadeja returned to wreck Sri Lanka after the lunch break.
Karunaratne's defiant knock, which included 16 boundaries, came to a cruel end when he was presented with an unplayable delivery that reared up, hit his gloves and ballooned into the air for Ajinkya Rahane to catch behind the wicketkeeper.
Mathews followed next, edging Jadeja to perish caught behind for 36 and Hardik Pandya claimed a couple of late wickets to hasten Sri Lanka's collapse.
"We were outplayed in the first innings both with bat and ball," Chandimal said after his team lost a test inside four days for the second time in the series.

"Credit goes to them, they batted brilliantly in the first innings and put us under huge pressure. I'm really happy the way guys played in the second innings."
Jadeja, who smashed 70 not out and claimed seven wickets from the test, was adjudged man-of-the-match.
Rahane was the bright exception in India's otherwise poor catching display, grabbing four in Sri Lanka's second innings alone.
Wriddhiman Saha also shone behind the stumps, taking a couple of spectacular catches, effecting a stumping and conceding only four byes on a pitch where the ball frequently misbehaved.
Pallekele hosts the dead rubber third and final test from Saturday.
India 1st innings 622 for 9 decl (C. Pujara 133, A. Rahane 132, R. Jadeja 70no, W. Saha 67, L. Rahul 57, R. Ashwin 54; R. Herath 4-154)
Sri Lanka 1st innings 183 (N. Dickwella 51; R. Ashwin 5-69)
Sri Lanka 2nd innings (Overnight: 209-2)
Dimuth Karunaratne c Rahane b Jadeja 141
Upul Tharanga b U. Yadav 2
Kusal Mendis c Saha b H. Pandya 110
Malinda Pushpakumara b R. Ashwin 16
Dinesh Chandimal c Rahane b Jadeja 2
Angelo Mathews c Saha b Jadeja 36
Niroshan Dickwella c Rahane b H. Pandya 31
Dilruwan Perera st Saha b Jadeja 4
Dhananjaya de Silva c Rahane b Jadeja 17
Rangana Herath not out 17
Nuwan Pradeep c S. Dhawan b R. Ashwin 1
Extras (lb-5 nb-2 w-2) 9
Total (all out, 116.5 overs) 386
Fall of wickets: 1-7 U. Tharanga,2-198 K. Mendis,3-238 M. Pushpakumara,4-241 D. Chandimal,5-310 D. Karunaratne,6-315 A. Mathews,7-321 D. Perera,8-343 D. de Silva,9-384 N. Dickwella,10-386 N. Pradeep
Bowling: U. Yadav 13 - 2 - 39 – 1, R. Ashwin 37.5 - 7 - 132 – 2, M. Shami 12 - 3 - 27 – 0, R. Jadeja 39 - 5 - 152 – 5, H. Pandya 15 - 2 - 31 - 2(nb-2 w-2)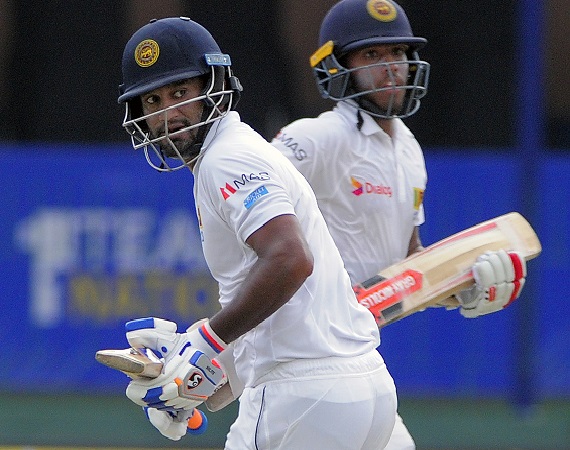 Champika Fernando at SSC
Sri Lanka replied strongly at stumps on day three thanks to a century stand for the second wicket between Dimuth Karunaratne( 92 not out) and Kusal Mendis (110), reaching 209 runs for the loss of two wickets but still left with a first innings deficit of 230 runs to erase to avoid an innings defeat.
Resuming from their overnight score of 50 for 2, in replying to India's 622 for 9, Sri Lanka were bundled out for 183 runs by lunch on day three and with a massive 439-run first innings lead India enforced the follow-on.
India had success almost immediately when Umesh Yadav bowled Upul Tharanga through the gate by a ripper of delivery but Mendis and Karunaratne retaliated with a perfect 191 for the second wicket to take Sri Lanka to a decent position by stump.
Mendis who was reprieved on one by Shikar Dhawan went onto hit his third century but fell minutes before stump when an inside edged off Hardik Pandya was brilliantly caught by diving Wriddhiman Saha behind the stumps.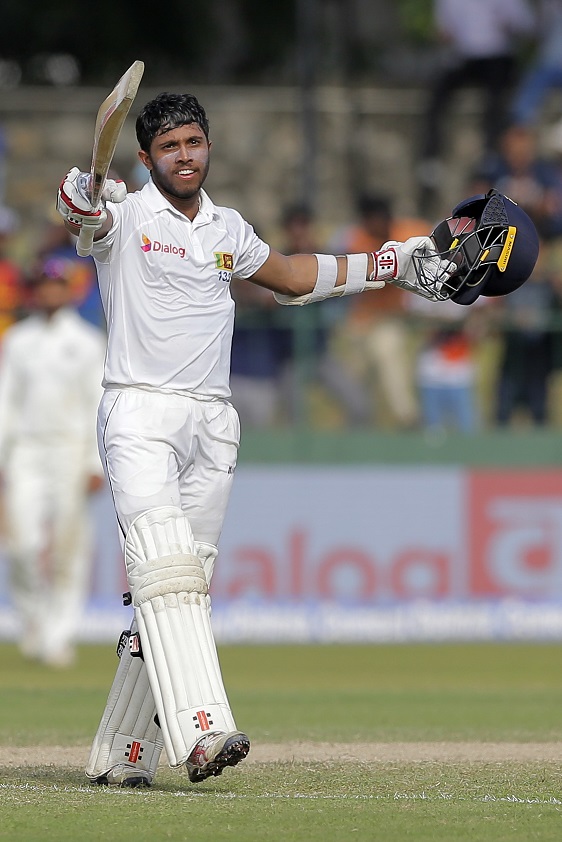 By then Mendis had smashed 110 off 134 with 17 boundaries and shared a second wicket stand of 191 runs with Karunaratne who remains unbeaten on 92. Nightwatchman Malinda Pushpakumara remains on 2. Mendis and Karunaratne forced Indian skippers to dig deep into their reserves to break the partnership as they launched an aggressive approach as oppose to the first innings where they surrendered meekly against a top quality spin attack.
With the pitch offering unusual turn and bounce, Indian spinners Ravichandran Ashwin, who claimed his 26th five-wicket haul, and Ravindra Jadeja ran through Sri Lanka's fragile batting order when the hosts resumed play from their overnight score of 50 for 2. They then crumbled for a pathetic 183 all out in 49.4 overs by lunch on day three of their first innings.
On an atypical SSC pitch, Indian skipper Virat Kohli began the day with spinners and had almost immediate success when overnight pair of Dinesh Chandimal and Kusal Mendis took the long walk back to the dressing room after throwing their wickets away.
After losing two quick wickets early, something special was needed from skipper Chandimal and Mendis, one of the brightest prospect of Sri Lanka, but both succumbed to Indian aggression.
Chandimal, who missed the first Test in Galle due to pneumonia, then swept Ravindra Jadeja straight to Hardik Pandya at square leg. Jadeja, who at times generated vicious turn and bounce, nearly took his second wicket in the over but Indian skipper at gully dropped Angelo Mathews on naught. Kusal Mendis soon departed when a leading edged off Umesh Yadev flew towards mid-on and Kohli, running backwards, took a brilliant catch to dismiss him for 24.
With four wickets down for 64 runs and a mountain to climb, it was left to the experienced Angelo Mathews to salvage the game together with Dickwella. He decided attack was the best form of defense against the lethal spin attacks and hit couple of sixes off Jadeja before Pujara took a spectacular left-handed diving catch off Ashwin at leg gully to end his short vigil in the middle.
Dhananjaya de Silva walked back for a golden duck as Jadeja bowled him through the defence. Dickwella had scored his fifth half century and had all the time to construct a long innings. Instead, he scooped Mohammed Shami straight to wicket, ending his 48 ball 51 with seven boundaries and six.
Mohammed Shami bowled out Rangana Herath with a ripper for 2 before Dilruwan Perera (25) became Ashwin's fourth victim of the match. Nuwan Pradeep, who has been ruled out of the Test series with a grade one hamstring injury, risked it further when he walked into bat at the fall of Perera. But he couldn't do much as he fell for a six-ball duck when Ashwin bowled him through the gate to claim his first five-wicket haul in the three-match series.
India 1st innings 622 for 9 decl (C. Pujara 133, A. Rahane 132, R. Jadeja 70no, W. Saha 67, L. Rahul 57, R. Ashwin 54; R. Herath 4-154)
Sri Lanka 1st innings (Overnight: 50-2)
Dimuth Karunaratne c Rahane b R. Ashwin 25
Upul Tharanga c Rahul b R. Ashwin 0
Kusal Mendis c Kohli b U. Yadav 24
Dinesh Chandimal c H. Pandya b Jadeja 10
Angelo Mathews c Pujara b R. Ashwin 26
Niroshan Dickwella b Shami 51
Dhananjaya de Silva b Jadeja 0
Dilruwan Perera b R. Ashwin 25
Rangana Herath b Shami 2
Malinda Pushpakumara not out 15
Nuwan Pradeep b R. Ashwin 0
Extras (b-4 lb-1) 5
Total (all out, 49.4 overs) 183
FOW: 1-0, 2-33, 3-60, 4-64, 5117, 6-122, 7-150, 8-152, 9-171, 10-183
Bowling: Shami 6-1-13-2, Ashwin 16.4-3-69-5, Jadeja 22-6-84-2, Yadav 5-1-12-1
Sri Lanka 2nd innings
Dimuth Karunaratne not out 92
Upul Tharanga b U. Yadav 2
Kusal Mendis c Saha b H. Pandya 110
Malinda Pushpakumara not out 2
Extras (nb-2 w-1) 3
Total (for 2 wickets, 60 overs) 209
Fall of wickets: 1-7 U. Tharanga,2-198 K. Mendis
FOW: 1-7, 2-198
Bowling: Yadav 9-2-29-1, Ashwin 24-6-29-0, Shami 6-2-13-0, Jadeja 16-2-76-0, Pandya 5-0-12-1
Yet to bat: LD Chandimal (c), AD Mathews, N Dickwella †, DM de Silva, MDK Perera, HMRKB Herath, ANPR Fernando

India amassed 622 for nine before declaring their first innings and then returned to remove both the Sri Lankan openers to tighten their grip on the second test on Friday.
For the second successive time in the three-match series, India won the toss, elected to bat and amassed 600 or more in their first innings before unleashing their bowlers on their hosts.
Like in their comprehensive defeat in the series opener at Galle, Sri Lanka made a feeble reply to finish day two on 50 for two at the Sinhalese Sports Club ground.
Skipper Dinesh Chandimal was batting on eight at stumps with the hosts needing a special knock from him, while Kusal Mendis was on 16 with Sri Lanka trailing by 572 runs.
For India, Ravichandran Ashwin hit a half-century and returned to dismiss both the openers to cap a particularly satisfying day.
Unable to call on lone frontline paceman Nuwan Pradeep due to a hamstring injury, Sri Lanka faced an unenviable task when India resumed on 344-3 with Cheteshwar Pujara and Ajinkya Rahane, partners in a double century stand, looking to heap more misery on them.
Dimuth Karunaratne and the debutant Malinda Pushpakumara claimed their maiden test wickets in the morning session to bring some relief for them.
Karunaratne hit Pujara's back thigh in the second over of the day but the leg-before appeal was turned down. Sri Lanka used review to overturn the decision.
Pujara batted for three hours and 20 minutes, hitting 11 boundaries and a six in his 133.
Rahane was stumped off Pushpakumara after making 132 which included 14 boundaries.
There was no respite, however, for the hosts as the lower half of the Indian line-up feasted on a jaded Sri Lankan attack.
Ashwin hit a fluent 54, Wriddhiman Saha struck a patient 67 and Ravindra Jadeja smacked three sixes in his unbeaten 70 off 85 balls before India declared their innings.
Six Indian batsmen notched up 50-plus scores, while three Sri Lankan bowlers bled 147 or more as the tourists maintained their iron grip on the contest.
Sri Lanka got off to a nightmarish start, losing opener Upul Tharanga to the second over of their innings.
The batsman hit an innocuous Ashwin delivery right into KL Rahul's body at short leg to depart for a duck.
Opening partner Karunaratne made 25 before edging Ashwin to slip to compound Sri Lanka's crisis.
India 1st innings (Overnight: 344-3)
S. Dhawan lbw b D. Perera 35
L. Rahul run out (Chandimal, Dickwella) 57
C. Pujara lbw b Karunaratne 133
V. Kohli c Mathews b Herath 13
A. Rahane st Dickwella b Pushpakumara 132
R. Ashwin b Herath 54
W. Saha st Dickwella b Herath 67
H. Pandya c Mathews b Pushpakumara 20
R. Jadeja not out 70
M. Shami c Tharanga b Herath 19
U. Yadav not out 8 Extras (b-8 lb-4 nb-2) 14
Total (for 9 wickets declared, 158 overs) 622
Fall of wickets: 1-56 S. Dhawan,2-109 L. Rahul,3-133 V. Kohli,4-350 C. Pujara,5-413 A. Rahane,6-451 R. Ashwin,7-496 H. Pandya,8-568 W. Saha,9-598 M. Shami
Bowling Nuwan Pradeep 17.4 - 2 - 63 - 0 Rangana Herath 42 - 7 - 154 - 4 Dimuth Karunaratne 8 - 0 - 31 - 1 Dilruwan Perera 40 - 3 - 147 - 1(nb-2) Malinda Pushpakumara 38.2 - 2 - 156 - 2 Dhananjaya de Silva 12 - 0 - 59 - 0
Sri Lanka 1st innings
Dimuth Karunaratne c Rahane b R. Ashwin 25
Upul Tharanga c Rahul b R. Ashwin 0
Kusal Mendis not out 16
Dinesh Chandimal not out 8
Extras (lb-1) 1
Total (for 2 wickets, 20 overs) 50
Fall of wickets: 1-0 U. Tharanga,2-33 D. Karunaratne
To bat: A. Mathews, N. Dickwella, D. de Silva, D. Perera, R. Herath, M. Pushpakumara, N. Pradeep
Bowling M. Shami 3 - 1 - 7 - 0 R. Ashwin 10 - 2 - 38 - 2 R. Jadeja 7 - 4 - 4 - 0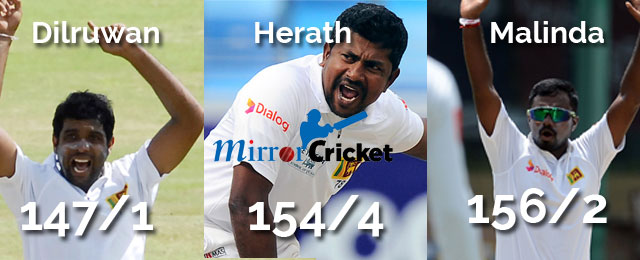 ---
Cheteshwar Pujara registered his second century of the series while Ajinkya Rahane also notched up a hundred as two of India's most dependable batsmen laid the foundation for a massive first innings total in the second test against Sri Lanka on Thursday.
Pujara's 50th test turned out to be an eventful one as India's number three nearly perished in the slip early in his innings and ran out partner KL Rahul before making amends with his burgeoning 211-run stand with Rahane.
Pujara, who also completed 4,000 test runs in the process, was batting on 128 at stumps, his 13th test century containing 10 boundaries and a pulled six off debutant spinner Malinda Pushpakumara.
Rahane, who survived a couple of reviews, hit 12 boundaries in his fluent 103 not out, as India utterly dominated the opening day of the contest to reach 344 for three.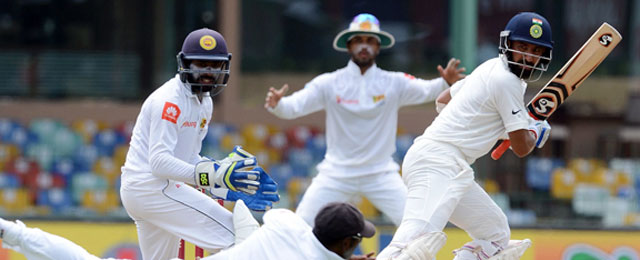 Alarmingly for Sri Lanka, still smarting from their comprehensive defeat in the series opener in Galle, lone frontline paceman Nuwan Pradeep left the field in the final session clutching his left hamstring.
India got off to a brisk start after skipper Virat Kohli opted to bat on a dry surface with Rahul, who missed India's victory in Galle with high-fever, and Shikhar Dhawan scoring freely against a spin-heavy Sri Lankan attack.
Dhawan clobbered Rangana Herath for a six in the spinner's first over and also hit five boundaries in his brisk 35 before Dilruwan Perera trapped him leg-before.
Rahul was on 19 when the right-hander was given out leg-before to
Dimuth Karunaratne but the batsman used review to successfully overturn the decision and went on to make his sixth successive test half-century.
Rahul fell on 57 after a horrible mix-up with Pujara and was soon joined by Kohli in the pavilion as India slumped to 133-3.
Pujara, who struck 153 in Galle, and Rahane ensured Sri Lanka did not get any momentum, however.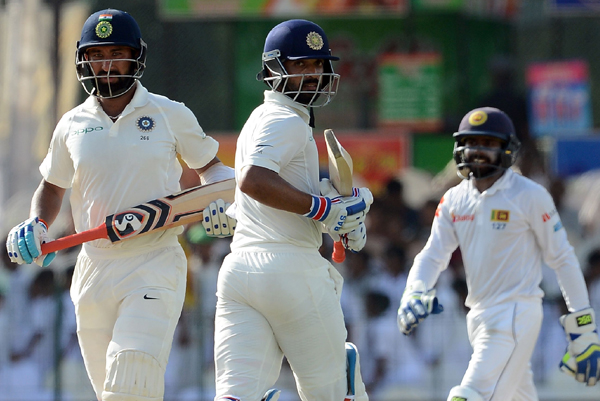 Renowned for their impeccable temperament, the right-handed duo deftly used the crease to punish the Sri Lankan bowlers who endured a wicketless final session.
Sri Lanka welcomed back skipper Dinesh Chandimal, who missed the Galle test with pneumonia, and effected three changes overall in their bid to level the three-match series against the top ranked Indian team.
Scoreboard at stumps on the first day in the second Test between Sri Lanka and India

on Thursday

in Colombo, Sri Lanka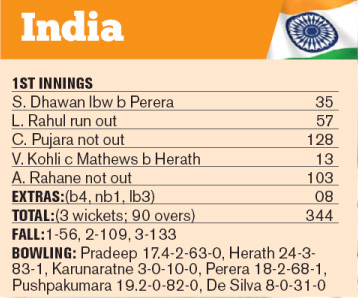 ---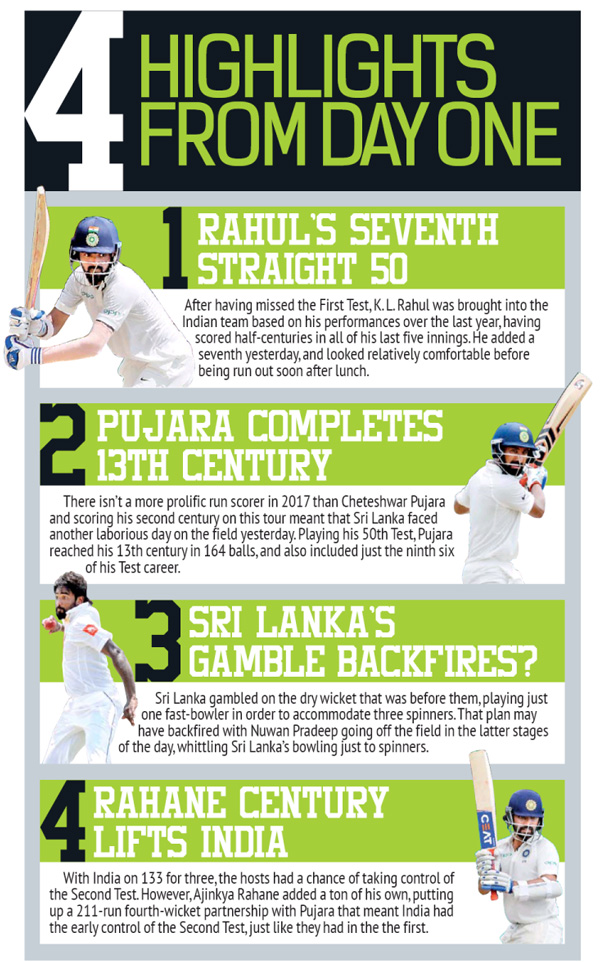 ---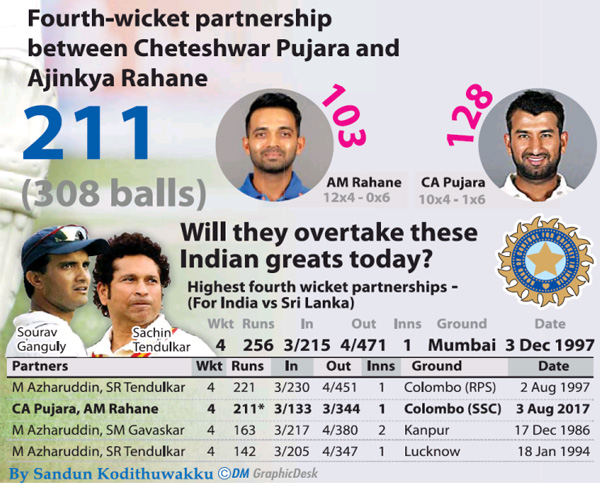 ---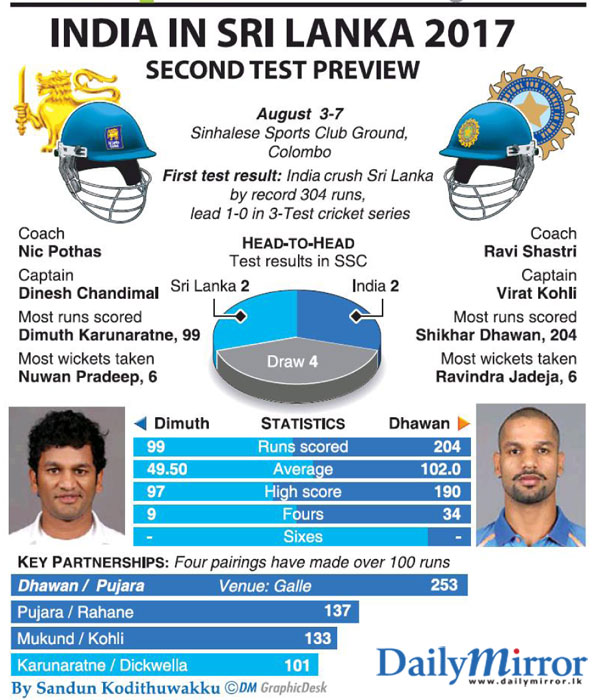 ---
MATCH PREVIEW
by Champika Fernando
Left-arm spinner Malinda Pushpakumara could be in line for a Test debut when Sri Lanka take on India in a must-win second Test here at the SSC grounds on Thursday.
The 30-year-old has been knocking the door for quite a while with some outstanding performances in first class cricket, but a promotion to the national team has been delayed with the presence of spin-great Rangana Herath in the national side.
He was named for the home series against Bangladesh but did not get a game. However Dinesh Chandimal who returns to lead the side after a bout of pneumonia strongly hinted at playing three spinners on what it seems like a spin-friendly surface.
If Sri Lanka opted for three spinners, seamer Lahiru Kumara is likely to make way for Pushpakumara in the playing XI, ending latter's long wait for his international debut.
"Most probably Malinda (Pushpakumara) will come in to the side," said skipper Chandimal. "This is a really good opportunity if Malinda is playing. He can use Rangana's (Herath) experience in the middle and in the dressing room. I hope both of them together will do a great job for me.
Herath has been Sri Lanka's match-winner during the last seven to eight years and at 39, he is Sri Lanka's sole-match winning bowler.
Pushpakumara who represents Chilaw Marians in domestic cricket has taken 558 first-class wickets at an average of 19.85, and is routinely among the top three wicket-takers in the Premier League Tournament.
Also expected to return to the playing XI is Dhananjaya de Silva. De Silva who made a match winning 129 and 65 not out against Australia in the second Test at the same venue last year will replace injured all-rounder Asela Gunaratne.
"Dhananjaya has more chance to replace Asela (Gunaratne)," he said.
Sri Lanka conceded a massive 304-run defeat in the first Test in Galle which put them in a must-win situation to keep the three-match series alive and skipper Chandimal said his charges are determined to turn it around.
"We all know at the moment India is No. 1 team. They played some really good cricket during the last 2-3 years. So credit goes to them. But as a team that is a really good challenge for us. My boys are in really good shape and looking forward to do their best in the game," he explained.
Chandimal said he made a speedy recovery from pneumonia after ICC permitted him to use an inhaler to make his respiratory system work well.
"I am much better thanks to ICC. Because they permitted me to use an inhaler. Rangana is also fit to play," he added.
Herath suffered blow to his bowling hand while fielding on day three in Galle Test and did not take the field on day four. Even though there was no facture, the figure remained sore for but skipper said his premier bowler has fully recovered.
Meanwhile Indian skipper Virat Kohli said KL Rahul who sat out the Galle Test would return to the side. He is most likely to replace Abhinav Mukund despite his good second innings knock in Galle. India who lead the series 1-0 will be eager to take an inaccessible lead by winning the second Test.
"Obviously KL has been our established opener. I feel one of the openers will have to make way for KL because, what he's done in the past two years for us has been very solid, and he deserves to come back and start fresh in Test cricket again," said Kohli at the pre-match press conference.
"In a situation like this, you need to sit down and think which player has had more impact on the game. Who has been able to sort of make that difference in the game straight away? It's a pretty thin-line but unfortunately, that is how the sport goes sometimes and things happen in a team environment.
If the pitch is expected to give lots of turn, India may also bring in left-arm wrists spinner Kuldeep in place of Hardik Pandya who made his debut in Galle. Meanwhile this will be the 50th Test match for Indian batsman Cheteshwar Pujara.
Sri Lanka (possible): 1 Upul Tharanga, 2 Dimuth Karunaratne, 3 Kusal Mendis, 4 Dinesh Chandimal (capt.), 5 Angelo Mathews, 6 Niroshan Dickwella (wk), 7 Dhananjaya de Silva, 8 Dilruwan Perera, 9 Rangana Herath, 10 Malinda Pushpakumara, 11 Nuwan Pradeep
India: 1 KL Rahul, 2 Shikhar Dhawan, 3 Cheteshwar Pujara, 4 Virat Kohli (capt.), Ajinkya Rahane, 6 R Ashwin, 7 Wriddhiman Saha (wk), 8 Ravindra Jadeja, 9 Kuldeep Yadav, 10 Umesh Yadav, 11 Mohammed Shami