---
Dialog 4G-the Sunday Times Most Popular Schoolboy Cricketer of the Year 2017
Still unchallenged, the leader of the All-island Schools segment of the Dialog 4G-the Sunday Times Most Popular Schoolboy Cricketer of the Year 2017 competition, Navindu Nirmal of St. Aloysius College, Galle, continues to forge ahead as the contest moves to its 11th week. The addition of 6,150 combined votes over the past week helped Nirmal take his tally to 70,262.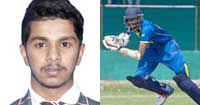 Mohamed Najath of Zahira College lost his grip for the first time and conceded his slot to Lasith Croospulle of Maris Stella College, Negombo. Croospulle managed to add the most number of combined votes for the third consecutive week and an addition of 7,762 takes his tally to 51,897. This is a meager lead of 31 votes from Najath, who added 1,968 votes over the past week. Najath's tally presently reads as 51,866.
This will be the final week where the full list will be published of all segments of the competition as it will be pruned down to the Top 20 from the beginning of April. By the end of April the list will be further cut down to 15
Online voting could be done through Dialog Axiata's digital online voting system portal www.dialog. lk/cricket. Player registration closed on February 28. Both coupon votes and online votes will be counted on a weekly basis and the official results published every week in the five newspapers and their respective websites, as well as that of Dialog Axiata's Online Portal. The deadline for online voting will be the same as for the coupons. Coupons will be accepted weekly only until 12 noon on Thursday while online voting will be counted by noon on Thursday, on a weekly basis.
This deadline will be strictly implemented by the organisers. Coupons for the related week WILL NOT BE ACCEPTED AFTER 12 NOON ON THURSDAY, each week. This is an open competition and unethical campaigning will be a disqualification. The Sports Editor of the Sunday Times reserves all rights to disqualify such players if any illegal movements is found with proof. end of May it will be shortlisted to the Top 10.
a
Pulitha Yasas Sri Sarathchandra of Sri Sumangala College, Panadura continues to dominate the Emerging Schools category as Gimhana Danushka of Piliyandala Central remains undisturbed in second place. Sahan Perera of Christ King Pannipitiya and Imesh Basnayake of St. Peter's College, Negombo move in to the third and fourth positions this week. The International Schools category is led by Shimraz Shahil of Alethea International School.
Coupons of the competition will be published in the Sunday Times, the Daily Mirror, Dailyft, Daily Lankadeepa and Ada. Coupons will run for 26 weeks with the deadline set for July 2. Readers could vote for their favourite schoolboy