---
BRISBANE (Reuters) - Australia sealed a dominant 10-wicket victory before lunch on day five of the series-opening Ashes test on Monday, having chased 170 runs without loss in a blow to England's pride.
Steve Smith's team will head to the second test in Adelaide this week brimming with confidence after decisively breaking England's resistance at the Gabba.
Openers David Warner and Cameron Bancroft, having driven Australia to 114 at stumps on day four, needed only 56 runs to complete the win in the morning and rarely looked in danger.
Vice-captain Warner finished unbeaten on 87, with Bancroft 82 not out after enjoying a maiden half-century in his test debut.
The debutant finished the match in style, bringing up the wins by smashing all-rounder Chris Woakes to the long-off fence twice, sparking a roar from the modest Monday crowd of 6,154.
"It was good fun obviously, to share a good partnership was nice and to get the win in the end was good," Bancroft said.
Four years after thrashing Alastair Cook's England by 386 runs at the Gabba on the way to a 5-0 whitewash in 2013/14, Australia extended their unbeaten record at the venue against their old foes to 31 years.
With Mike Gatting's team the last English side to win at the Gabba in 1986, captain Joe Root had said his team were about due for a breakthrough.
And at the end of day three, with the match still in the balance, paceman Stuart Broad said they were the best-positioned they had been in 30 years to win at the ground.
It all smacked of bravado after lunch on day four, however, as England lost 5-40 during a fierce pace assault to be skittled for 195 in their second innings.
Australia were left needing 170 runs for victory and Warner and Bancroft batted superbly after tea to drive the hosts to 114 without loss.
The game had enthralled for three days.
Australia's fast bowlers struggled to capitalise on their edge in pace on a surprisingly slow and tepid Gabba pitch, while England's rookie batsmen showed impressive composure in their Ashes debuts.
While opener Mark Stoneman, James Vince and Dawid Malan all scored half-centuries, none could go on to really make Australia pay or stand up under pressure in the second innings when it really counted.
England 1st innings 302 (J. Vince 83, D. Malan 56, M. Stoneman 53)
Australia 1st innings 328 (S. Smith 141no, S. Marsh 51)
England 2nd innings 195 (J. Root 51)
Australia 2nd innings (Overnight: 114-0; Target: 170 runs)
C. Bancroft not out 82
D. Warner not out 87
Extras (lb-2 nb-1 w-1) 4
Total (for no loss, 50 overs) 173
Fall of wickets:
Did not bat: S. Smith, U. Khawaja, P. Handscomb, S. Marsh, T. Paine, M. Starc, P. Cummins, N. Lyon, J. Hazlewood
Bowling
J. Anderson 11 - 2 - 27 - 0(nb-1)
S. Broad 10 - 2 - 20 - 0
M. Ali 4 - 0 - 23 - 0
C. Woakes 11 - 1 - 46 - 0
J. Ball 8 - 1 - 38 - 0(w-1)
J. Root 6 - 1 - 17 - 0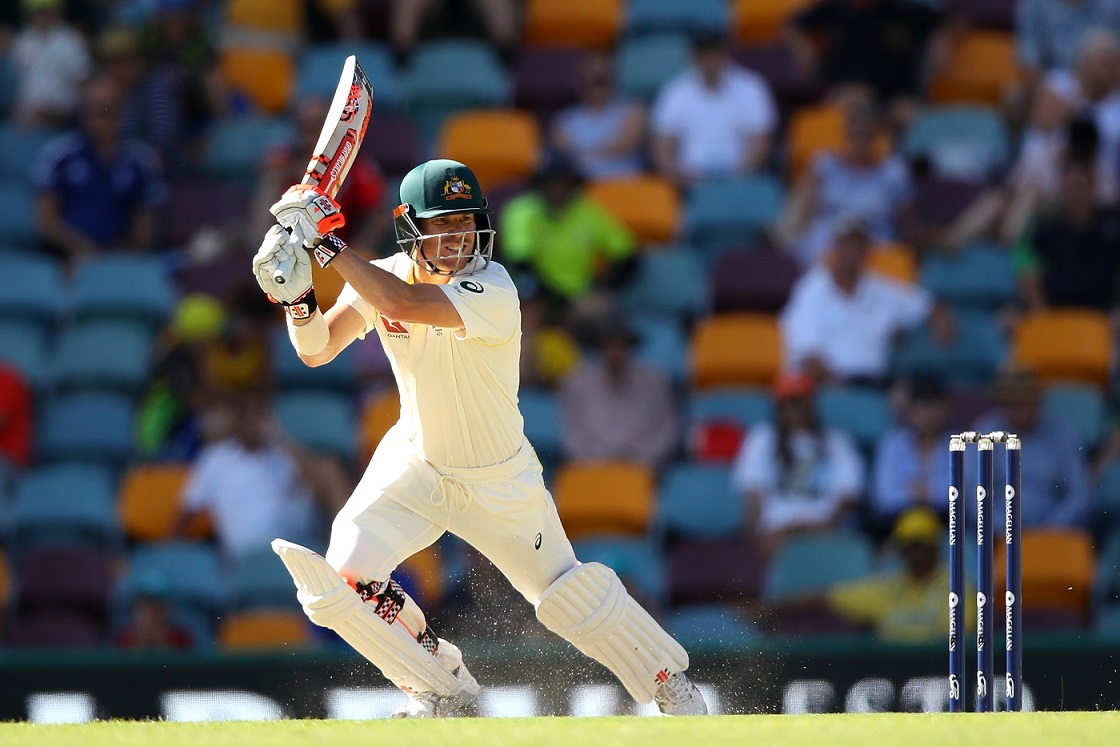 BRISBANE (Reuters) - A pulsating Ashes opener that had promised a grandstand finish will more than likely end early with a handsome win to Australia after Steve Smith's side pushed within 56 runs of victory.
The teams will return to the Gabba on Monday to go through the motions, with Australia openers David Warner and Cameron Bancroft looking to mop up the winning runs after protecting their wickets with aplomb after tea.
Australia were 114 without loss at stumps, with Bancroft (51) celebrating his maiden half-century in his test debut after vice-captain Warner (60) raised his 25th as shadows crept across the ground.
"Obviously a great day for our team, to finish the way we did with the bat, none down with 56 runs to get," Australia paceman Mitchell Starc told reporters.
"Heading over to (the second test in) Adelaide, England will have to chase us.
"I'd rather be in our changeroom than theirs."
The denouement happens on Sunday but the game broke open after lunch, however, when England's middle order suffered a ruinous collapse for the second time in the match.
The loss of captain Joe Root for 51 before the first break was a blow but there was still hope as Moeen Ali and Jonny Bairstow drove England to 155 for five.
From there it went sour as the tourists fell for 195, the capitulation triggered by a third umpire decision that may be debated for years to come.
Having breezed to 40, Moeen was beaten by spinner Nathan Lyon and wicketkeeper Tim Paine whipped the bails off in a flash.
The all-rounder's foot was planted squarely on the line and long, tortuous deliberations followed as New Zealander Chris Gaffaney pondered various angles.
None of the footage showed Moeen's foot safely behind the line, so Gaffaney sent him packing.
It was Lyon's third wicket of a fine test for the offspinner and England's breaking point after three days of mostly valiant cricket.
They lost 4-40 and their last three wickets for 10 runs as Starc awoke to trample on their wafer-thin hopes.
All-rounder Chris Woakes added 30 runs with Bairstow but his uneasy 57-ball knock ended on 17 when caught in the slips by Smith after being worked over by a short ball from Starc.
Left to carry the tail, Bairstow instead threw away his wicket for 42 with a ramp shot over the slips that went straight to third man.
Stuart Broad was Starc's third victim four balls later when he feathered a nick and Pat Cummins wrapped up England's innings with another bouncer that harried Jake Ball sent to fly slip.
Smith's epic, unbeaten 141 on day three will take on an even greater significance, given the scant contributions of England's batsmen in their second innings.
Root made the only half-century for his team, but it will be a footnote in the match and he concedes an emphatic first-up defeat in his ongoing duel with Smith.
"Obviously very disappointed," said Moeen.
"I thought the first three days we played well and we were in the game and then today we let ourselves down with the bat.
"It was a good pitch to bat on ... We got in and never really got on to get that score that we needed."
England's veteran quicks James Anderson and Broad were left to try to pull off a miracle but they washed harmlessly against the wall of Warner and Bancroft, who opened their shoulders after a watchful hour.
In the morning, it was Lyon who turned the screws with two wickets before Josh Hazlewood (3-46) claimed the prized scalp of Root.
After England resumed the day on 33 for two, Lyon had opener Mark Stoneman caught for 27 by Smith at slip.
The spinner and captain combined again when Dawid Malan nicked behind to fall for four.
England 1st innings 302 (J. Vince 83, D. Malan 56, M. Stoneman 53)
Australia 1st innings 328 (S. Smith 141no, S. Marsh 51)
England 2nd innings (Overnight: 33-2)
A. Cook c Starc b Hazlewood 7
M. Stoneman c Smith b Lyon 27
J. Vince c Smith b Hazlewood 2
J. Root lbw b Hazlewood 51
D. Malan c Smith b Lyon 4
M. Ali st Paine b Lyon 40
J. Bairstow c Handscomb b Starc 42
C. Woakes c Smith b Starc 17
S. Broad c Paine b Starc 2
J. Ball c Handscomb b Cummins 1
J. Anderson not out 0
Extras (nb-2) 2
Total (all out, 71.4 overs) 195
Fall of wickets: 1-11 A. Cook,2-17 J. Vince,3-62 M. Stoneman,4-74 D. Malan,5-113 J. Root,6-155 M. Ali,7-185 C. Woakes,8-194 J. Bairstow,9-195 S. Broad,10-195 J. Ball
Bowling
M. Starc 16 - 1 - 51 - 3(nb-1)
J. Hazlewood 16 - 3 - 46 - 3
P. Cummins 12.4 - 4 - 23 - 1
N. Lyon 24 - 4 - 67 - 3(nb-1)
S. Smith 3 - 0 - 8 - 0
Australia 2nd innings (Target: 170 runs)
C. Bancroft not out 51
D. Warner not out 60
Extras (lb-2 nb-1) 3
Total (for no loss, 34 overs) 114
Fall of wickets:
To bat: S. Smith, U. Khawaja, P. Handscomb, S. Marsh, T. Paine, M. Starc, P. Cummins, N. Lyon, J. Hazlewood
Bowling
J. Anderson 8 - 2 - 17 - 0(nb-1)
S. Broad 7 - 2 - 14 - 0
M. Ali 4 - 0 - 23 - 0
C. Woakes 7 - 1 - 31 - 0
J. Ball 4 - 1 - 17 - 0
J. Root 4 - 1 - 10 - 0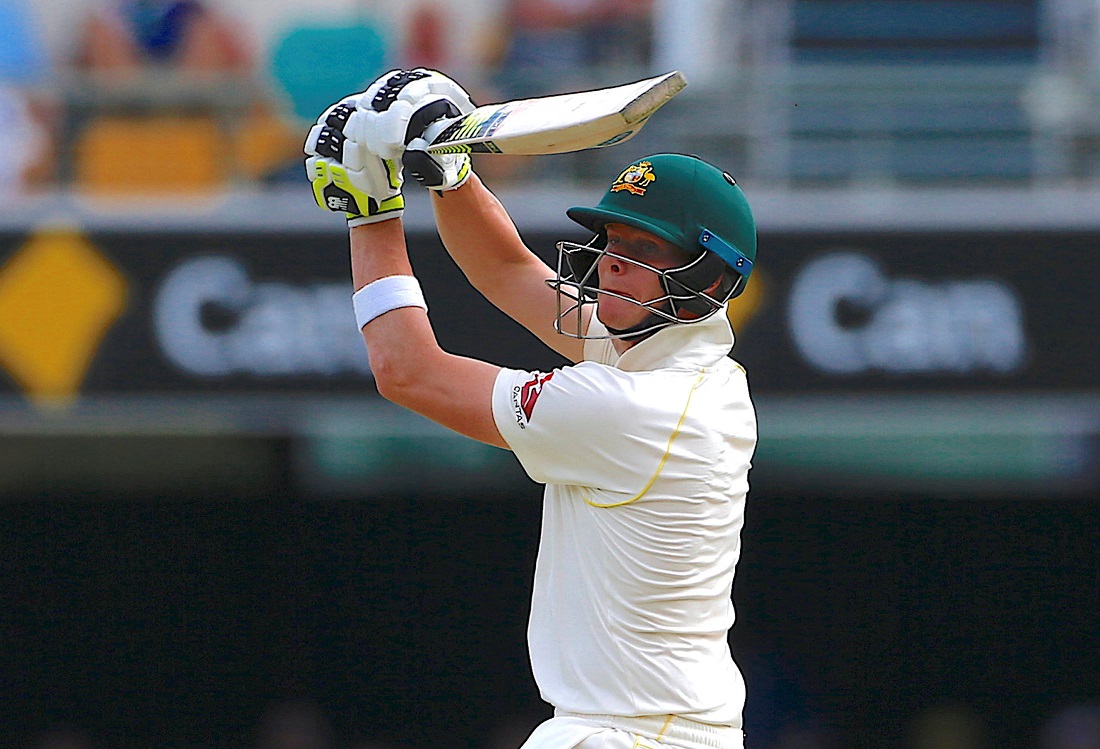 BRISBANE, Australia, Nov 25, 2017 (AFP) - Steve Smith produced a defiant unconquered century and Josh Hazlewood claimed two wickets to leave England reeling as Australia cracked open the first Ashes Test at the Gabba on Saturday.

The Australian skipper played one of his greatest Test knocks with an unbeaten 141, crafted over eight and a half hours, to deliver his team a 26-run lead over the tourists on the third day.
Paceman Hazlewood compounded the tourists' woes with the wickets of Alastair Cook (7) and James Vince (2) in his opening two overs before a nasty Mitchell Starc lifter thundered into Joe Root's helmet grille late in the day.

At the close with two days left, England were hanging on in a torrid ending to the day at 33 for two, leading by just seven runs with Root, on five, and Mark Stoneman, on 19, at the crease.
England captain Root did everything to remove the obdurate Smith with 'Bodyline'-style field placings, but the world's top-rated batsman laid waste to the tourists' well-laid plans to give the Australians the advantage at the Gabba, where they haven't lost a Test since 1988.

It was an uncharacteristic knock by the shotmaker Smith, with his 21st Test century built on unwavering concentration and patience to defy all of England's efforts to dislodge him.
When Australia's first innings finally ended, Smith was still there after 326 balls over 514 minutes with 14 fours.

Smith -- who averages 61.23 in 57 Tests but 72.46 as Test captain, second only to the great Don Bradman -- consummated his indomitable hundred with a cover drive for four off Stuart Broad to a huge roar from the home crowd.

Smith effectively carried his team past England's total, but needed resolute lower-order support from Pat Cummins and Nathan Lyon as the last six wickets added 252 runs.
The fidgety Smith was tied down by meticulous England bowling and fielding after losing three batting partners in the morning session, before paceman Cummins joined him at 209 for seven in the 82nd over.

Cummins played a pivotal supporting role for his skipper, overtaking his previous highest Test score of 33 with 42 in his first Test match at home, and helped put on a crucial 66-run stand.
The tourists view the Australian captain as their number one target in the series, and Smith showed just what a hugely influential player he is, escaping the shackles to claim yet another century.

Root's field strategy for Smith was likened to Bodyline, a notorious leg theory bowling tactic devised by England on their 1932-33 tour of Australia, specifically to negate the dominant batting skills of Don Bradman.
The England skipper placed six fielders on the leg-side with three in the deep and had no-one in front of the bat on the off-side while his pacemen ripped in short-pitched deliveries to Smith for a time.
The Australians lost Shaun Marsh, Tim Paine and Mitchell Starc before lunch.
Marsh reached his eighth Test fifty -- his first in an Ashes match -- before he was deceived by a slower ball from Broad and lobbed a catch to James Anderson at mid-off.

Paine, back for his first Test in seven years, stayed for an hour before he was dismissed by a one-handed catch by wicketkeeper Jonny Bairstow off Anderson for 13.
Starc hoicked Broad for a straight six but fell two balls later, spooning back a return catch to Broad as Smith saw batting partners come and go.
Yet it was Smith who was to have the last word
Scoreboard
England first innings 302 (J. Vince 83, D. Malan 56, M. Stoneman 53; M. Starc 3-77, P. Cummins 3-85)
Australia first innings (overnight 165-4)
D. Warner c Malan b Ball 26
C. Bancroft c Bairstow b Broad 5
U. Khawaja lbw b Ali 11
S. Smith not out 141
P. Handscomb lbw b Anderson 14
S. Marsh c Anderson b Broad 51
T. Paine c Bairstow b Anderson 13
M. Starc c and b Broad 6
P. Cummins c Cook b Woakes 42
J. Hazlewood b Ali 6
N. Lyon c Cook b Root 9
Extras (lb1, w2, nb1) 4
Total (all out; 130.3 overs) 328
Fall of wickets: 1-7 (Bancroft), 2-30 (Khawaja), 3-59 (Warner), 4-76 (Handscomb), 5-175 (Marsh), 6-202 (Paine), 7-209 (Starc), 8-275 (Cummins), 9-298 (Hazlewood), 10-328 (Lyon)
Bowling: Anderson 29-10-50-2, Broad 25-10-49-3, Ali 30-8-74-2, Woakes 24-5-67-1, Ball 18-3-77-1 (1nb 2w), Root 4.3-0-10-1
England second innings
A. Cook c Starc b Hazlewood 7
M. Stoneman not out 19
J. Vince c Smith b Hazlewood 2
J. Root not out 5
Extras 0
Total (2 wickets; 16 overs) 33
Fall of wickets: 1-11 (Cook), 2-17 (Vince)
Bowling: Starc 5-1-14-0, Hazlewood 5-1-11-2, Cummins 3-2-1-0, Lyon 3-0-7-0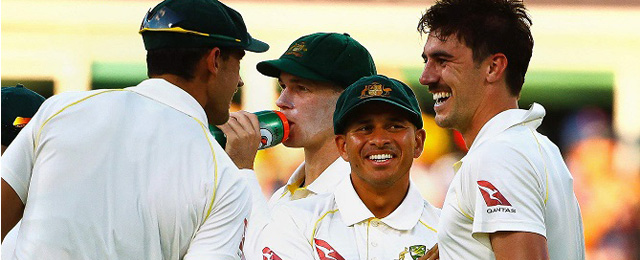 BRISBANE AFP Nov 23, 2017 : England's James Vince was left kicking himself after he was spectacularly run out close to an Ashes debut century, as Australia struck late to leave the first Test finely balanced after day one on Thursday.
Captain Joe Root and Alastair Cook both fell cheaply before the tourists reached 196 for four when bad light ended an attritional, rain-affected day at Brisbane's Gabba ground.
Vince top-scored as the tourists went along slowly, blunting Australia's much-vaunted pace attack at a venue dubbed 'The Gabbatoir'.
But Australia loosened England's hard-earned advantage when they dismissed Vince late on, just prior to the key wicket of Root who went lbw to Pat Cummins.

At stumps, Dawid Malan was batting on 28 along with Moeen Ali, whose 13 included the day's only six.
Vince, on 83, scampered for a quick single off Josh Hazlewood but a brilliant off-balance throw from Nathan Lyon prowling in the covers caught him well out of his ground.

It was a moment of triumph for the spinner, who is normally taciturn but who gained notoriety for telling the tourists that Australia aimed to "end careers" in the Ashes series.
"It was a good piece of fielding. In hindsight I wouldn't have taken the run, but it was a good pick-up and throw to be fair," Vince said.
"I'm sure lying in bed I'll have a few thoughts about it (missing out), but at the same time if you had offered me scoring 80-odd I probably would have taken it." Vince, who was earlier put down by recalled wicketkeeper Tim Paine off Lyon, led a fighting English rearguard with Mark Stoneman after the early loss of Cook.
It took a special piece of fielding from Lyon to end Vince's 170-ball, four-hour vigil and give the Australians hope on a rugged first day on an unresponsive Gabba pitch.
Eighteen runs later, Root fell leg before wicket to Cummins for 15 off 50 balls after a review, in a another huge scalp for the toiling Australians.
"In terms of a fast bowler's wicket, it's pretty much the dream wicket. One of the most satisfying I've ever got," Cummins said.
"If the ball is swinging, to set him up with a couple of overs of out-swing, then try to bowl one big in-swinger, it probably only comes off one in a hundred times.
"But when it does it's pretty special." Australia have a formidable record at the intimidating Gabba, where they have not lost a Test match since 1988, and where England haven't won in 31 years.
But Vince and Stoneman had few problems mastering Australia's fast bowling trio before Cummins bowled Stoneman, the Surrey opening bat, between his bat and pad for 53 nearing tea.
It looked as though Vince would go on and crown his resilient innings with a century after passing his previous highest Test score of 42.
Vince survived a big moment nearing tea when he edged Lyon on 68, only for the deflection to bounce away off the top of the gloves of recalled wicketkeeper Tim Paine.
Vince put on a 125-run second-wicket stand with Stoneman as the Australian bowling attack struggled on a slow-paced Gabba pitch.
It was a spirited recovery after the early wicket of Cook in the third over. The former England captain only lasted 10 balls before he edged pace spearhead Mitchell Starc to Peter Handscomb at first slip for just two.
It continued an uncertain start to the Ashes tour for Cook, who amassed 766 runs in England's 3-1 series victory in 2010-2011 but who has just one half-century in five innings on the current visit.
Stoneman continued his prolific form following his century and three half-centuries in the four innings of the warm-up games.
England first innings
A. Cook c Handscomb b Starc2
M. Stonemanb Cummins53
J. Vincerun out (Lyon)83
J. Rootlbw b Cummins15
D. Malannot out28
M. Alinot out13
Extras(b1, nb1)2
Total (4 wickets; 80.3 overs)196
Fall of wickets: 1-2 (Cook), 2-127 (Stoneman), 3-145 (Vince), 4-163 (Root) To bat: J. Bairstow, C. Woakes, S. Broad, J. Ball, J. Anderson
Bowling: Starc 19.3-4-45-1 (1nb), Hazlewood 18-4-51-0, Cummins 19-6-59-2, Lyon 24-9-40-0 Toss: England Umpires: Aleem Dar (PAK), Marais Erasmus (RSA) TV umpire: Chris Gaffaney (NZL)