---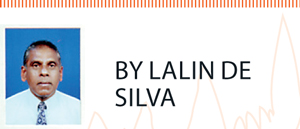 James Taylor was born in Kincardineshire, Scotland on March 29, 1835. Setting out from London on October 2, 1851 as a youth of 17 years, he arrived in Ceylon in 1852. On his arrival, he was sent to Loolecondera Estate in the Kandy District.
Taylor had signed an agreement to serve as an Assistant Superintendent with his employer for three years but he remained in the island for 41 years.
Taylor was hard-working and conscientious. Above all, he never ceased experimenting and trying out new ways of doing all things with the aim of improving efficiency and eliminating needless cost.


He first developed Loolcondera as a coffee plantation and introduced cinchona also as a crop, which was proving to be highly promising. With all that, Taylor's main concern was tea.
By 1865, he got tea seeds from Peradeniya Gardens and was able to put out tea plants along the side of the roads or paths through the coffee plantation.
Later he made attempts to process the tea leaves. He rolled the green leaf by hand on his verandah table and fired it over a charcoal fire.
There are many lessons for us to learn from him. Taylor was a perfectionist and was always willing to learn. He gave an ear to people with experience and ideas and then formed his own opinions.
So devoted Taylor had been to his work; he had left the shores of Ceylon only once during his 41 years stay – on a holiday to Darjeeling, India – and had studied everything connected to tea. Taylor remained on Loolecondera Estate for his entire planting career of 41 years.
He was acknowledged as the father of the Ceylon tea industry. At the beginning Taylor made his tea in the bungalow verandah. Later, however, more machinery was introduced to his Tea House. Taylor built his first tea factory in 1872 inventing the first rolling machine in Ceylon
In spite of Taylor's great achievements, the end of his life and career were associated with sadness and disillusionment. In early 1892, he was requested to take six months leave off the estate. He refused to do so indicating that his health was so good. But unfortunately he was asked to resign. Along with this, he suffered another blow, when he contracted dysentery and died within a few days on May 2, 1892 at the age of 57 years.
Taylor, the grand vizier of Ceylon tea, lived and died in this country.
The statement made by Ferguson in 1885 said, "Mr. Taylor of Loolecondera shows a large profit per acre with his 350 pounds than others do with 600 pounds," the reason being that he "does not distress his bushes and he tops the markets."
My personal opinion is that such a remark made 131 years ago is still valid for a revolutionary viable transformation in the plantation sector.
(Lalin De Silva was a member of the organising committee of James Taylors 100th death anniversary in 1992 in Kandy)