---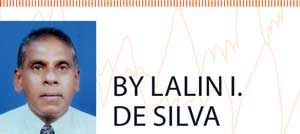 One U$ dollar in 1980 was equivalent to Rs.16.53 and at present, one U$ dollar equals to Rs.145, which is an 877 percent increase compared to 1980. There has been an average increase of 24 percent each year for the past 36 years although the annual increase has never been static. The government budget is projected to trend around -6.50 percent of gross domestic product (GDP) in 2020, according to our econometric models.

Furthermore, if the trade deficit is not brought down within the next few years in our favour, (which was US $ 8.4 in 2015), strengthening the rupee will be a difficult task. This situation also predicts lesser foreign currencies being received in exchange of the goods we export, including semi-processed plantation commodities such as bulk tea, rubber and others like cinnamon, nutmeg, pepper, etc. If we sold a kilogramme of any plantation produce for one U$ dollar in 1980, we would have received Rs.16.53, but this year we would have received Rs.145 for the same kilogramme.

However, the right way to perceive this is that we are continuing to get the same one U$ dollar even after 36 years. It is therefore, very pertinent to think in terms of U$ dollar equivalents, such as maintaining our cost of production in terms of a dollar. In remodelling the plantation business, it is better and more productive to keep all financial targets in U$ dollar terms with the ultimate objective of strengthening the U$ $ 87 billion Sri Lankan economy before 2020.

The weakening rupee leads to an increase in cost of living, hence the lowering power of purchasing, which affects the circulation of money and the whole economy thereby. One of the choices the (employed) people have made already is to live on credit. The current and widening gap of budget deficits and an increase in imports than exports are early signs of frequent demands for wage increases in time to come. This can be addressed timely by developing a pay policy to each sector of our economy the website – www.o'net.org – explains how job descriptions are connected to pay groups in different parts of the USA. There are enough of examples we can draw from other countries on sector-wise pay policies.

The need is to increase finished goods exports and reduce imports. One of the strategies is to follow low external input and sustainable agricultural principles coupled with other land-based investments on plantation land, whilst maintaining the territorial integrity of the land mass. The competent agriculturalists with entrepreneur skills who also have competitive advantages over different markets in the world, are the ideal candidates to manage the plantations or land-based
business opportunities.

Land-based residential businesses like plantations can do a lot to increase exports. We need to classify plantation land into their suitability as follows.
Residential development land
Commercial development land
Row crop land
Livestock raising land
Timberland
Mineral production land
Vegetable farm land
Orchards
Recreational land
Residential and commercial land development offer a feasible entryway into investment land ownership because virtually an unlimited number of land development opportunities can be structured to meet an investor's capital and time constraints. Some of the opportunities available are industrial, office, retail, healthcare, public storage and residential property developments. Plantations can consider livestock as an additional option for increased returns. Forestry is another viable business that also conserves our environment. We are yet to develop a more appropriate definition for 'forestry'.

Mineral production has its own advantages and its success depends on the region. High-tech agriculture and vegetable/fruits are other options. Eco tourism, health tourism, edutainment, adventure, white water rafting, meditation centres are needs of the affordable that can be exploited. The plantation management companies have to develop different project proposals based on the most appropriate land-based investments. There will be many to invest on such land parcels given the assurance of a minimum of Rs.500,000 gross profit per hectare per annum but the ownership of the land remains in the hands of the regional plantation companies (RPC).

Reducing cost of production
In terms of reducing the cost of production, the concept of correctly identified productivity (producing more with less) matters a lot. There are multiple means of reducing the cost of production on plantations. Starting with the human resources, it must be noted that only about 25 percent of the residential workforce are employed on plantations. There is ample labour available to be employed and this labour can be used to increase the GDP of the country. This means another 400,000 man days that can be gainfully employed in plantations if we understand the potential of land-based business opportunities. However, the question at hand is if we have the managerial capacity to exploit these opportunities with totally fixed and top frozen mindsets?

Well, for starters, adding value through quality education is a choice we have. Plantations also could benefit through a free trade zone-type of arrangement. A plantation is an ideal location for manufacturing different goods (finished goods). All these factors will aid in generating U$ $ 10 billion by 2020 as envisaged. It is said that the parts of the Apple phone are manufactured in various countries before all of them are assembled in the US and sold.

We strongly need the leadership of the country to understand this potential and create an enabling work environment without delay. Motivated employees are a creation of talented 'bosses', improved 'jobs', attractive 'pay', career 'growth' and 'support' from the peers. Plantations are the first large-scale commercial venture in Sri Lanka with a long history and 'inbuilt resistance to change', which in my opinion is a critical factor for its downward spiralling in terms of business performances.

The quality of leadership, especially in the plantations managed by the RPCs, has to be improved. We need a different set of thinkers as the managers of land-based management entities (SAC). This transformation must commence right now without further ado. The transformation will need professionals such as city/village planners, environmentalists, agricultural economists, effective general managers, health officials, veterinary surgeons and many more.

We will also need a separate bank (SAC Bank) for funding prioritized activities and to hand exports/imports, etc., with total authority.
If there are 10,000 tea bushes in a hectare of land, 40 plucking points per each tea bush, 752 leaves and bud per kilogramme of green leaf and the bushes are plucked 52 times a year, and if the GL/MT out turn is 21.5 percent, then the yield per hectare of such land has to be 5962.

Nottingham university campus in Kuala Lumpur, Malaysia maintains that there are well over 3000 crops that could be cultivated for profitable agribusiness ventures. When the land becomes a scarce resource, the quality of the production per unit area of land has to be increased. Impacts of the rain, sun and the moon alongside with the timing of the year are of paramount importance to this wise.
When a coconut palm in Coimbatore gives 240 nuts per year, a Sri Lankan palm gives us only 54 nuts per year. Fomes root disease is killing the rubber trees leaving a very poor amount of trees in a hectare. The national goals for oil palm to reach 35,000 kilogrammes FFB per hectare and 27 percent OER will remain only a dream if we do not get certified and correct genetic materials.

It is a must that we produce any agri produce at the minimum cost, which is a golden rule and should not be mistaken for cheap production methods. The talent or HR is not cheap any more. Therefore, RPC-managed plantations will need intellectual support to develop viable business models considering all key criteria subjected to rapid changes over short and long-term time periods.
Establishing a proper standard for agri soils is a timely need. We need to look at a new definition for plantation soils. A new agri map of Sri Lanka is also a necessity. Most of the soil conservation acts are not implemented to the fullest. Planters must understand that their most precious resource is soil and not the crop itself. From the policy point of view, the government can do a lot to ensure that all agriculturists of this country do employ their best efforts to enrich soils. That is the commitment by any government to maintain sustainability.

Benchmark of best practices
A benchmark of best practices and a suitable mechanism to create healthy competition through the involvement of universities, research institutes and mass media is a dire need to accelerate the speed of delivery of better business performances. This land has everything that is needed but the mindset of the decision-makers has to be improved. The reason is that the industry has a static and unchallenged mindset due to outdated knowledge that too is deteriorating by the day.

An increment in wages without adequate gains of productivity can have a huge negative impact on any business because of the rising costs and unaffordability by the consumers. However, the emerging lifestyles of the plantation workers are compelling them to keep away from daily work schedules in order to attend important social events.
One such event is the usual parent-teachers meeting when they have school-going children. Therefore, it must be accepted that the daily-wage earners cannot work all 30/31 days of a month. Nevertheless, they need the full month's wages to make ends meet and this fact must be acknowledged. The productivity is the total measurable output per 30/31 days and the wage is the total earnings during the same period. If an employee can complete the task even within 25 days of the month, shouldn't the employee be paid for the entire 30/31 days of the month? How much are we not getting (waste) by simply allowing them to turn up for work and by not getting the required output?

Furthermore, the employer should be able to get total productivity or the required outputs during any given month before they compensate for total outputs due for the month. They should have the right to decide a reasonable output of work from each employee. Thereby, these needs have to be matched in order to create a win-win situation. In order to make this happen, plantations should collectively develop 'work measuring systems' stemming from the initial practice of 100 cubic feet of soil per day to qualify for days wages. Work measuring systems should be applicable to different agro climatic regions. The benefit of cultivating improved varieties and facilitating with mechanization and other interventions such as IT should be considered in favour of the
RPC concerned.

Smart agro cities is only a concept. Continuity of this concept is essential in planning. Moreover, we need to start with the end in mind. For that we have two important goals, namely, strengthening the national economy of U$ $ 87 billion by injecting cash worth U$ $ 10 billion by 2020. This is the transformation of problems into opportunities. All patriots must rally around the minister and prime minister and start agreeing on a framework to develop the strategic plan of 2016-2020. The KPI is Rs.500,000 per hectare each year. Therefore, the first step is to get Rs.500,000 per hectare gross profit from the available cultivated extent of 126,695 hectares, which will come closer to U$ $ 5 billion.
So, it is very apparent that we have our work cut out for us. It is about time a transformation takes place in this ever growing industry. If we start with the end in mind we will surely be able to reach our target.

(Lalin I. De Silva is former Editor, Ceylon Planter's Society Bulletin)