---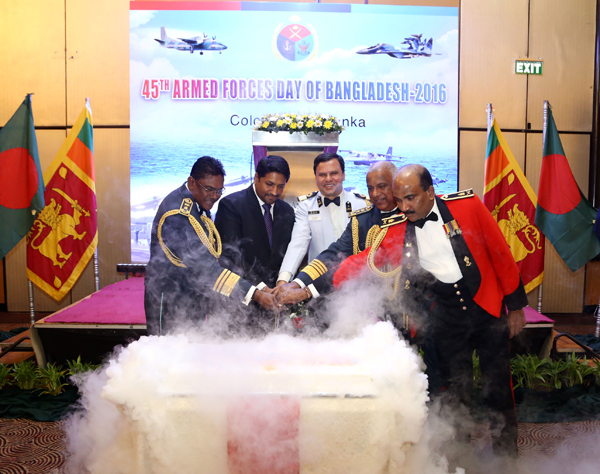 State Defence Minister Ruwan Wijewardene, Army Commander Crishantha de Silva, Air Force Commander Air Marshal Kapila Jayampathi and Chief of Defence Staff Air Chief Marshal Kolitha Gunatilleke attended an event held in Colombo to mark the 45th Bangladesh Armed Forces Day.
The Defence Ministry said the Bangladesh Armed Forces celebrate the Armed Forces day on November 21 each year. Bangladesh Armed Forces Day preserves immense implication in the history of Bangladesh Liberation War.
Defence Adviser of Bangladesh High Commission Commodore S Aslam Parvez said arranged the reception to mark the occasion.
Bangladesh Armed Forces observe the day each year with great festivity, enthusiasm and renewed promise for safeguarding the independence and sovereignty of the beloved motherland.
During the Liberation War in 1971, on this day, the brave members of Bangladesh Army, Navy and Air Force along with the freedom fighters from all walks of life, organized under the joint operational command and launched an all-out attack on the occupation force. The decisive attacks from all fronts brought in a great tactical as well as strategic advantage in the war theatre and ultimately resulted in the victory on 16 December 1971. Hence Bangladesh emerged as an independent and sovereign state in the world atlas.