---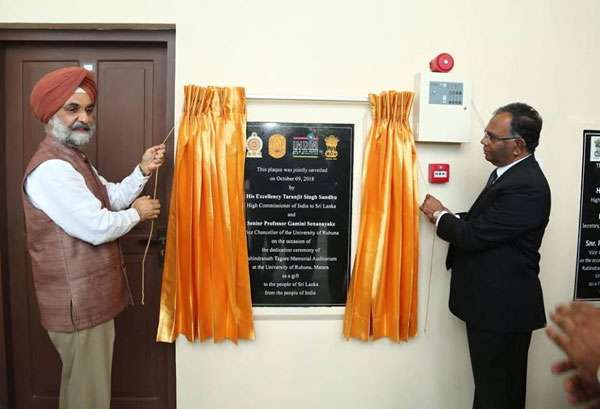 The Rabindranath Tagore Memorial Auditorium, with a seating capacity of 1,500, the largest in any of the Universities in Sri Lanka, was declared open at the University of Ruhuna, Matara today.
The Indian government had given a grant of SL Rs. 300 million to construct the auditorium. It was opened in a ceremony attended by Indian High Commissioner Taranjit Singh Sandhu and Vice Chancellor of the Ruhuna University Gamini Senanayake.The buildings of the Ruhuna University, which is celebrating its 40th year of inception, have also been designed under the guidance of Bawa.
The auditorium named after Gurudev Rabindranath Tagore is a symbol of our cultural links with India.
The Indian High Commission said the auditorium is yet another example of the India-Sri Lanka people-oriented development partnership.
The overall development portfolio of the Government of India in Sri Lanka is close to 3 billion USD, of which approximately 550 million USD is given as pure grant assistance while the rest is given as concessional credit.