---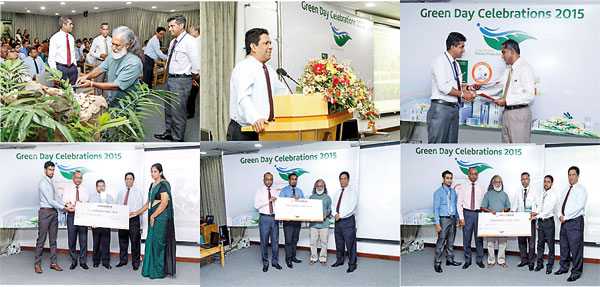 Sampath Bank has sustained its efforts in spearheading earth-friendly initiatives keeping in line with one of its main CSR operation pillars – Environment Protection and Conservation.
Together with Sampath Bank Nature Protection Club, Sampath Bank's environment and nature protection arm, the bank annually celebrates the environment day 'Sampath Green Day' to motivate its staff to think green and be eco-friendly.
At the recently concluded Sampath Bank Green Awards 2015, Sampath Bank took a step forward to announce the declaration of 2 significant projects – 'Sampath Green Inventor' and 'Surakimu Sundara Polhena'.
With the Ministry of Education, Sampath Bank aims to launch 'Sampath Green Inventor', Sri Lanka's first eco-friendly initiative targeting all national schools in Sri Lanka with a view to encourage schoolchildren to develop green inventions, promote green concepts and motivate them to lead an eco-friendly lifestyle.
This unique initiative will further enhance their knowledge on Environmental Protection and Conservation. Upon registration to the competition, students are given the opportunity to submit a project report based on an innovative idea or product they have invented to protect and conserve the environment in a sustainable manner. With the assistance from specialists in the Environmental Protection and Conservation field, finalized projects and ideas will be analyzed in order to crown the title of Green Inventor to the most innovative student at the Green Day Award Celebrations to be held in 2016.
Sampath Bank will reward the next best inventors with cash prizes of Rs. 150,000 and Rs.100,000 respectively, along with seven consolation prizes for other participants. Simultaneously, Sampath Bank will also award cash prizes to the schools which the winners represent.
The second initiative, 'Surakimu Sundara Polhena' was declared with the exchange of official documents at Green Day Awards 2015 between Sampath Bank and the Department of Oceanography and Marine Geology, University of Ruhuna.
This project was embarked on advice and guidance of Dr. Turny Pradeep Kumara, the former Head of Department of Oceanography and Marine Geology with the main aim of restoring the Polhena Reef in Matara through coral transplantation; reef clean ups and reef zoning. In doing so, Sampath Bank aims to bring back the beauty of the Polhena Coral Reef that attracts many tourists, which in turn benefits the Polhena community who build their livelihoods from the reef.