---
The blood donation campaign organised by Richard Peiris Finance Ltd was a tremendous success with over 100 donors taking part.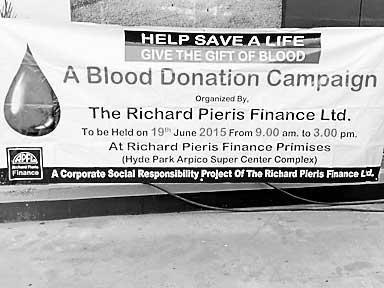 The major corporate social responsibility (CSR) project, the first by the two-year-old Richard Peiris Finance, took place at the company premises in Colombo recently with the participation of the company staff, customers, donors and the public.

"The CSR project was conducted in association with the Cancer Hospital Blood Bank in Maharagama and we are extremely happy with the very encouraging response for our very first CSR project," said an official of Richard Peiris Finance that has recorded a highly commendable performance in a very short time.
Among the main objectives of the company, CSR is one of the main areas, said the spokesman for Richard Peiris Finance, who added that the company's third financial year, into which they have stepped in, is challenging because their expansion has already begun.

He noted that during the two years, Richard Peiris Finance was making its foundation strong. The Central Bank has given the approval to set up initially eight branches islandwide and they will be located in Arpico Supermarkets to provide convenience to their customers who have really trusted the company and given business.